Merkel urges China to use influence on Iran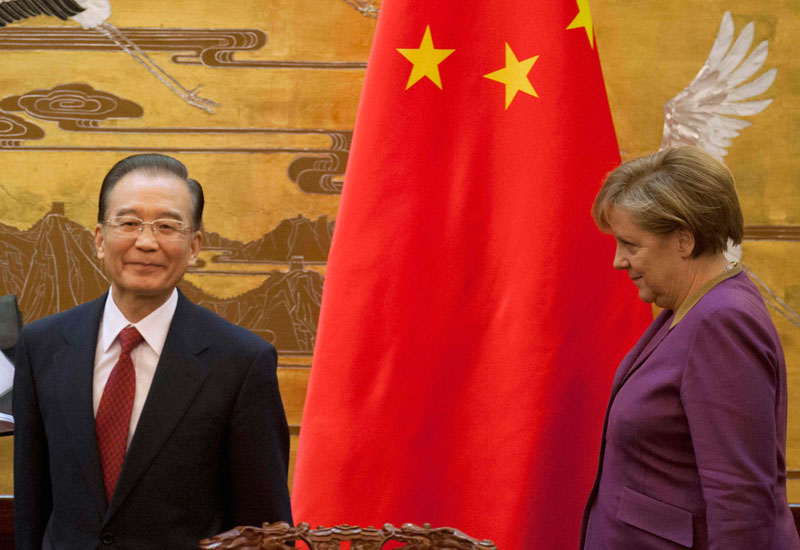 German Chancellor Angela Merkel urged China on Thursday to use its influence to persuade Iran to give up its nuclear weapons programme, at the start of a three-day visit.
Merkel is expected to make the case for tighter sanctions on Iran, designed to prevent it from developing nuclear weapons. She said she has already had "long discussions" with President Hu Jintao and Premier Wen Jiabao on Iran sanctions.
"If we talk about the European sanctions against Iran, the question is how China can make better use of its influence to make Iran understand that the world must not have another power with nuclear weapons," Merkel told an audience at the Chinese Academy of Social Sciences.
Merkel's China visit illustrates the delicate nature of EU-China relations, where Europe pushes China to sacrifice its commercial interests to help on Iran.
Indeed, Chinese Premier Wen Jiabao appeared to reject the pressure to do more on Iran, telling journalists later in the day that China objected to Western nations politicising the "normal commercial relationship" it has with the Islamic Republic, echoing language China has used before.
Merkel said she hoped the UN Security Council could pass a unanimous resolution on the Iran issue.
The European Union last week imposed a ban on the import, purchase or transport of Iranian oil.
China has long refused to support sanctions on Iran, although Wen Jiabao said last month that Beijing "adamantly opposes" Iran developing nuclear weapons.
Beijing imports 11 percent of its crude from the Islamic Republic, its third biggest supplier.
Merkel could urge Beijing to further cut its crude imports from Iran, a German source said earlier, but that is likely to go unheeded. Turning away that oil would mean paying a higher price to get it from another supplier.
"China opposes the use of nuclear energy for proliferation but believes it is possible to use it for peaceful purposes," said Li Xiangang, a former Chinese diplomat in Tehran who is now at the China Institute of International Studies.
"Energy sanctions against Iran will only cause world oil prices to rise and hurt the global economic recovery. That is why I think China is not supportive of further sanctions on Iran."
China would only act after the International Atomic Energy Agency sends inspectors to Iran, Li said.
On Thursday, she toured an ancient alley in Beijing that is now home to shops and restaurants, one of the few to survive the razing of the centuries-old capital to build shopping malls and office blocks.
Germany enjoys strong exports to China, especially in machinery and high-tech products.
Chinese leaders view Merkel -- and Germany -- as the definitive voice on the European crisis, in part because of Germany's economic strength compared with its European neighbours, analysts say.
Follow Emirates 24|7 on Google News.