'Miss GCC' crowned at the Dhafra pageantry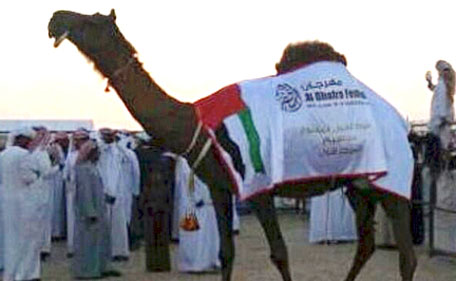 A camel owned by a Saudi beat 60 other camels from the UAE and other Gulf states to win the title of the most beautiful camel in the "old camels" category being held in Abu Dhabi emirate, a Saudi newspaper reported on Tuesday.

Mahiouba was picked by a judgment committee for her "colour, neck, hump and nose" and is the first camel from Saudi Arabia to win a pageantry title in five years at the contest in Dhafra, nearly 30 km south of Abu Dhabi city.

"My Mahiouba won the title in the old camels category although I am the only Saudi camel owner participating in the Dhafra contest," owner Talal bin Suleiman Al Anzi said, quoted by the Saudi Arabic language daily Sabq.

"I participated with one camel in this category but I will have 50 camels in main contest which will be held on Saturday."

Camel owners from the UAE, Saudi Arabia, Qatar and Kuwait are taking part in the Dhafra camel contest, an annual event held in the oasis town.

Follow Emirates 24|7 on Google News.