Mum of tortured baby urges hubby's execution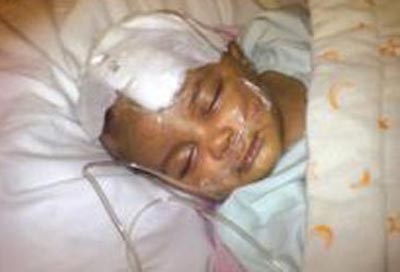 A Saudi mother has urged authorities to execute her ex-husband for severely tutoring his newborn baby, who doctors believe will grow up as a handicap person, a newspaper in the Gulf Kingdom reported on Monday.
Doctors who are supervising the treatment of the baby, Abdullah, decided on Sunday to readmit him to hospital in the western Red Sea port of Jeddah after his condition deteriorated, the online Arabic language daily Kabar said.
"Abdullah's mother is now demanding the execution of her ex-husband for what he has done to his own baby and depriving him from having a normal life," it said.
The paper said doctors at the National Guards Hospital in Jeddah decided to readmit Abdullah because of persistent convulsions as a result of brain damage and severe injuries to the body caused by his father.
Abdullah's father brought his six-week-old baby to hospital in mid 2010 and claimed that he fell down. But suspicious doctors later found out the painful truth—his father had been torturing the infant, Abdullah, who they believe will never fully recover and would become a handicapped person.
"I discovered that he started to torture his own baby just a week after he was born…I woke up one day and noticed that Abdullah had a swollen eye and bruises on his arms and body…when I asked my husband, he said that the baby had fallen down….a few days later, I saw more bruises on him and his father was putting ice on his body…when I asked him why, he said the baby had high temperature," said Abdullah's mother, who won a court case to get divorced from her husband following the baby's torture and her beating up.
"I believed him because he is his father…I had not thought that he could do this to him until I saw how confused he was when he was interrogated at the hospital…I had not imagined that a father could hurt his own baby and treat him with such cruelty…it was until I saw him punching the baby's head and eyes and beating him so cruelly that he broke his pelvis and legs….he then beat me up when I yelled at him and threatened to kill me if I tell the police."
Saudi newspapers said last week Abdullah's body was bruised, his legs and pelvis were broken, his eyes were bleeding, and his head was badly swollen when he was first brought to hospital in July.
They quoted Dr Sara Abed, an obstetrics consultant at King Abdul Aziz Medical City in Jeddah, as saying Abdullah is suffering from what she described as a severe traumatic condition and physical damage, adding that his condition is "the worst case and highest degree of child violence."
"We have performed some operations on him to save his life…his condition has now stabilized but I think he would never have a chance to be a normal boy…he is now suffering from convulsions, delayed growth and partial paralysis. Abdullah will very likely suffer from a permanent handicap and could also have problems involving a delay in his intelligence," she said.
Follow Emirates 24|7 on Google News.