New York travel ban lifted after snowstorm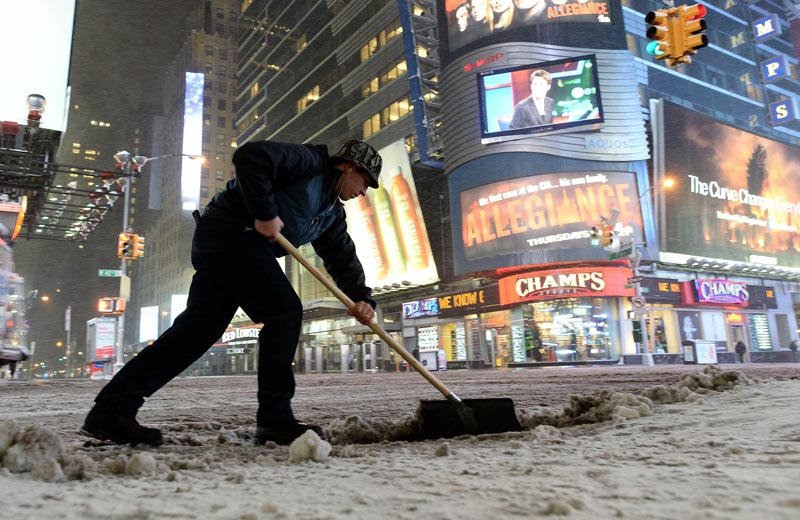 UPDATE: Blanket driving bans were lifted and limited New York public transport was to reopen on Tuesday after a night of snowfall that dumped up to two feet (60 centimetres) in some areas.

New York State Governor Andrew Cuomo said a travel ban would be lifted at 8am (1300 GMT) and that limited service on the New York city rail and subway lines would begin at 9am.

New Jersey Governor Chris Christie also announced that the travel ban in the state was lifting, but officials still warned against all but essential travel.

"The roads are still dangerous and they are passable but there's a level of ice under the snow in many areas and if you don't have to travel today, you really don't want to," Cuomo said.

"I would expect delays, even with the plows and the salting, the roads are not clear so we don't want to give people a false sense of security," he added.

By noon, subway and rail services would run at a limited Sunday service, around 50 per cent of normal weekday operations, and back to normal on Wednesday, chairman Thomas Prendergast said.

Snowfall varied throughout the New York area, with some parts of the city receiving as little as four (10 centimetres) to six inches, and LaGuardia airport 11.5 inches, Cuomo said.

Long Island is still being hard hit with 16 inches and its eastern tip Suffolk County continues to see blizzard-like conditions and face "serious issues," Cuomo said.

Flight disruptions are still extensive. More than 5,000 flights within, to and from the United States are cancelled on Tuesday and Wednesday, according to flightaware.com.

Officials launched a vigorous defence of the blanket travel bans and rail closures, saying it had been prudent to protect lives, protect equipment and get services back to normal more quickly.

"You plan the best you can and you lead toward safety," Cuomo said, adding that he had no estimates for loss of business.

"It may actually have brought us back to full operating capacity sooner but I do not criticize weather forecasters. I learn."

US blizzard shuts schools, business, transport
A blizzard dropped more than a foot (30 cm) of snow across the northeastern United States on Tuesday, falling short of the massive predicted snowfall that prompted officials across the region to close schools and order travel bans.

High winds and heavy snow were set to persist throughout the day, with another foot forecast to fall in parts of Boston. Wind-driven seas caused flooding along some low-lying roadways in coastal Massachusetts, state police said.

The heaviest snowfall was recorded in parts of Connecticut and Massachusetts, while New York City's Central Park saw just 6 inches (15 cm), less than a quarter of the 'historic' snowfall that some meteorologists had predicted.

"When you hear the word 'crippling' and you look out your window this morning, it is not there," said John Davitt, a meterologist on New York's NY1 news channel.

Travel was still snarled, with more than 4,500 flights cancelled at U.S. airports, according to FlightAware.com, and no trains or buses in New York, Boston or New Jersey.

Forecasts for as much as 3 feet (90 cm) of snow had prompted governors in eight East Coast states to declare states of emergency and the storm affected up to 60 million people in nearly a dozen states.

Residents largely obeyed orders to stay off roadways and broadcasters in New York and Boston showed roads largely free of cars early on Tuesday.

Sustained winds in the area might hit 64 kph, though gusts as high as 126 kph were recorded on the island of Nantucket, off Massachusetts.

Travel bans remained in place on roads in southern New York, Connecticut and Massachusetts.

"It could be a matter of life and death so caution is required," New York Governor Andrew Cuomo told reporters.

In New York's Long Island, Suffolk County Police said that a teenager had died late on Monday when he crashed into a lamp post in the street where he was snow-tubing.

'Snowmageddon' on social media

Stuck at home, many turned to social media to give voice to their frustration, adopting such storm-related hashtags as #blizzardof2015, #Snowmageddon2015 and #Snowpocalypse.

"Across NE, millions are panicked they may lose internet and have to talk to their families. Trying hard to remember names. #Snowmageddon2015," tweeted Stuart Stevens.

The United Nations headquarters gave itself a day off on Tuesday. East Coast schools, including New York City -- the nation's largest public school system, serving one million students -- shut down. Universities, including Harvard and the Massachusetts Institute of Technology, cancelled classes.

Stock exchanges, including Intercontinental Exchange Inc's New York Stock Exchange unit, Nasdaq OMX Group, and BATS Global Markets, said they expected to stay open for normal operating hours on Tuesday.

The last time bad weather closed the stock markets was in October 2012 when Sandy hit the East Coast with flooding, punishing winds and widespread power outages.
The brutal weather paralysed the New York City metropolitan area, with a shutdown of all subway, bus and commuter rail services on Metro-North Railroad and Long Island Rail Road. It was the first time the city subway had been halted due to snow.

New Jersey Transit and the Massachusetts Bay Transportation Authority also suspended bus, rail and other services would also be suspended on Tuesday.

Coastal flood warnings were issued from Delaware to Maine, and National Weather Service officials in Boston reported early on Tuesday that waves just a few miles outside of Boston Harbor approached 20 feet (6 meters).

Amtrak suspended rail services between New York and Boston, and into New York State, Vermont, Massachusetts and Maine.

The biggest snowfall on record in New York City was during the storm of Feb. 11-12, 2006, when 26.9 inches (68 cm) fell, according to the city's Office of Emergency Management.

For a graphic on snowstorms: https://link.reuters.com/wur83w



Follow Emirates 24|7 on Google News.