Obama decries Syria violence, ups pressure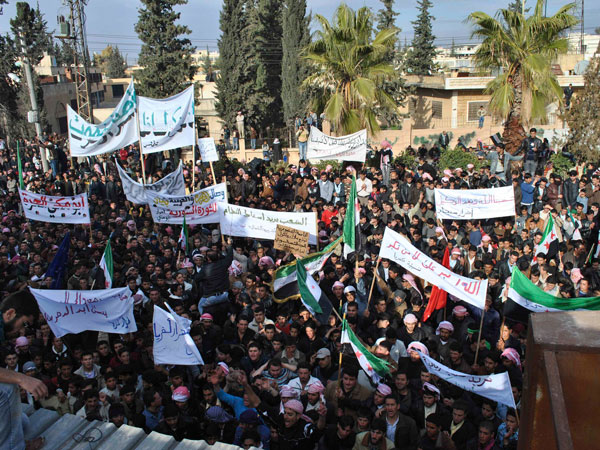 Syria is ready to let Arab monitors extend their mission beyond this week, an Arab League source said, but U.S. President Barack Obama said he was looking to increase international pressure on Syrian leader Bashar al-Assad to step aside.
Damascus opposes broadening the scope of the Arab League observer mission, the source at the League said, but would accept a one-month extension of its mandate which expires on Thursday.
U.N. officials say more than 5,000 people have been killed in the violence across Syria, where pro-Assad forces are trying to crush peaceful protests and armed rebels.
The government says 2,000 members of its security forces have died.
"Unfortunately we're continuing to see unacceptable levels of violence inside that country," Obama said in Washington after meeting Jordan's King Abdullah.
"We will continue to consult very closely with Jordan to create the kind of international pressure and environment that encourages the current Syrian regime to step aside," he added.
The Arab League must decide whether to withdraw its 165 monitors or keep them in Syria, even though they are expected to report that Damascus has not fully implemented a peace plan agreed on Nov. 2. Arab foreign ministers are set to discuss the team's future on Jan. 22.
"The outcome of the contacts that have taken place over the past week between the Arab League and Syria have affirmed that Syria will not reject the renewal of the Arab monitoring mission for another month ... if the Arab foreign ministers call for this at the coming meeting," the Arab League source said.
The Arab plan required Syria to halt the bloodshed, withdraw troops from cities, free detainees, provide access for the monitors and the media and open talks with opposition forces.
A senior opposition leader said Syrian troops fighting rebels in the town of Zabadani near Lebanon agreed to a ceasefire on Tuesday.

Pro-Assad troops backed by tanks attacked the town on Friday in the biggest military offensive since the Arab monitors entered the country last month.
"FAILED MONITORS"
A rebel army chief said on Tuesday the Arab League monitors should go as they had failed to curb a crackdown on protesters seeking President Bashar al-Assad's overthrow.
"Though we respect and appreciate our Arab brothers for their efforts, we think they are incapable of improving conditions in Syria or resisting this regime," Riad al-Asaad, the Turkish-based commander of the rebel Free Syrian Army told Reuters.
"For that reason we call on them to turn the issue over to the U.N. Security Council and we ask that the international community intervene because they are more capable of protecting Syrians at this stage than our Arab brothers," Asaad said.
The Arab League source said Beijing and Moscow had urged President Assad to accept an extension of the monitoring mission to avert an escalation at the international level.
Syria would agree to an increase in the number of monitors, he said, but would not allow them to be given formal fact-finding duties or be allowed into "military zones" that are not included in the existing Arab peace plan.
Any change in the scope of the mission, whether to militarise it or let it investigate human rights abuses and potentially assign blame, would require a new agreement with Syria, the source said.
Qatar has proposed sending in Arab troops, a bold idea for the often sluggish League and one likely to be resisted by Arab rulers close to Assad and those worried about unrest at home.
Syria's foreign ministry said on Tuesday it was "astonished" at Qatar's suggestion, which it "absolutely rejected".
Follow Emirates 24|7 on Google News.