Old woman beats Saudi doctors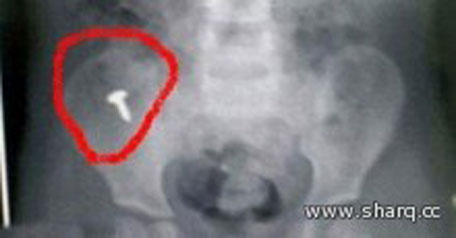 An ageing Saudi woman practicing traditional medicine beat modern science when she treated a three-year-old local girl who swallowed a nail by mistake.
Doctors had told the mother that they could not remove the nail from Toulin's abdomen after it slipped from the stomach into the colon.
They asked the mother to come back after three days and that they could intervene surgically to remove the nail in case it settles in the colon.
"But Toulin's mother could not wait…she went to that old woman, who reassured her that she would treat her daughter," Aljazeera online said.
"She then massaged her stomach with oil, gave her bread and banana and asked her mother to bring her back in the evening…after a second massage session, the old woman told the mother the nail could come out on the next day."
The report said that the mother went after three days for the appointment at the hospital, where Toulin had an X-ray.
"The X-ray showed no trace of the nail…I told the doctor about that old woman and he acknowledged that she cured her daughter," Aljazeera said without mentioning where exactly in Saudi Arabia the woman lives.
Follow Emirates 24|7 on Google News.