Qatar suggests sending Arab troops to Syria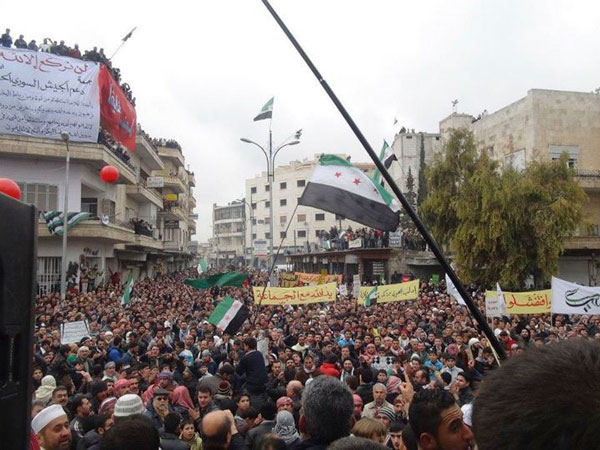 Qatar has proposed sending Arab troops to halt the bloodshed in Syria, where violence has raged on despite the presence of Arab League monitors sent to check if an Arab peace plan is working.
Asked if he was in favour of Arab nations intervening in Syria, Qatari Emir Sheikh Hamad bin Khalifa al-Thani told the US broadcaster CBS: "For such a situation to stop the killing ... some troops should go to stop the killing."
The emir, whose country backed last year's Nato campaign that helped Libyan rebels topple Muammar Gaddafi, is the first Arab leader to propose Arab military intervention in Syria where protesters are demanding President Bashar al-Assad stand down.
CBS said on its website that the interview would be broadcast in its "60 Minutes" programme on Sunday.
Qatar's prime minister heads the Arab League committee on Syria and has said killings have not stopped despite the presence of Arab monitors sent there last month.
In the preview of the interview on the website, the emir did not spell out how any Arab military intervention might work.
There is little appetite in the West for any Libya-style intervention in Syria, although France has talked of a need to set up zones to protect civilians there.
The United Nations says more than 5,000 people have been killed since protests against Assad erupted in March. Syrian officials say 2,000 members of the security forces have been killed by armed "terrorists".
In the latest violence, Syrian tanks and troops renewed an assault on the rebel-held hill town of Zabadani near the border with Lebanon on Saturday, causing about 40 casualties, an opposition leader said, citing residents reached by telephone.
Kamal al-Labwani said green buses had been brought to the town, suggesting preparations for mass arrests in the town, defended by army deserters and anti-Assad insurgents. It was not immediately clear if the 40 casualties included any dead.
The attack on Zabadani was the biggest against opponents of Assad since the Arab observers began work on Dec. 26.
In the Damascus neighbourhood of Qaboun, a resident said security forces killed 17-year old protester Abdel Bassaet Jubbeh when they fired at a night demonstration demanding the removal of Assad.
"He was hit in the chest." The (security police) took six other injured demonstrators from the ground and took them to the Airforce Intelligence complex in Harasta (a Damascus suburb)," said the resident, who gave his name as Sami.
Four civilians died elsewhere, including a 13-year-old boy and a man shot dead in the central city of Homs, the British-based Syrian Observatory for Human Rights reported.
Syria's military held funerals for 16 soldiers killed by armed "terrorists" in the provinces of Homs, Damascus and Idlib in the northwest, the state news agency SANA said.
SANA also said a blast set off by insurgents in Idlib had derailed a freight train carrying fuel to a power station, setting several fuel tankers ablaze and wounding three people.
MORE OBSERVERS READY
There has been no let-up in the conflict despite the Arab observer mission, which has been castigated even by some of its own members for buying Assad more time to crush his foes.
"This is the last week in the month agreed between Syria and the Arab League and will witness a wide deployment of the monitors," said a source at the Cairo-based League, adding that 40 monitors were ready to join the team of about 165 whenever its leader, Sudanese General Mohammed al-Dabi, requested them.
Plans to expand the team were delayed last week after 11 monitors were slightly hurt in an attack on their convoy by a pro-Assad crowd in the port of Latakia on Monday. That incident also prompted the monitors to suspend work for two days.
Dabi is due to report to the Arab League on Thursday and Arab foreign ministers will then decide whether to continue the mission, or possibly refer Syria to the U.N. Security Council.
The League chief, Nabil Elaraby, said on Friday he feared the conflict could slide into civil war.
Armed clashes, now punctuating what began as a non-violent protest movement, have raised fears of a full-scale conflict in Syria, a Sunni Muslim-majority country of 23 million which also has Alawite, Druze, Christian and Kurdish minorities.
Syria, bordering Lebanon, Turkey, Iraq, Jordan and Israel, is at the heart of the volatile Middle East, where its closest allies are Iran and the Lebanese Hezbollah group.
Turkish Foreign Minister Ahmed Davutoglu, whose country has become one of Assad's fiercest critics after previously courting him, held talks in Beirut with Lebanese President Michel Suleiman and other politicians on Saturday.
"The Syrian authorities must respond to the legitimate democratic aspirations of the Syrian people," UN Secretary-General Ban Ki-moon, who is also visiting Lebanon, was quoted as saying by the Beirut newspaper an-Nahar the previous day.
He also urged the Security Council, where Russia and China have blocked firm action on Syria, to speak with one voice.
Follow Emirates 24|7 on Google News.