Rebels seize key checkpoint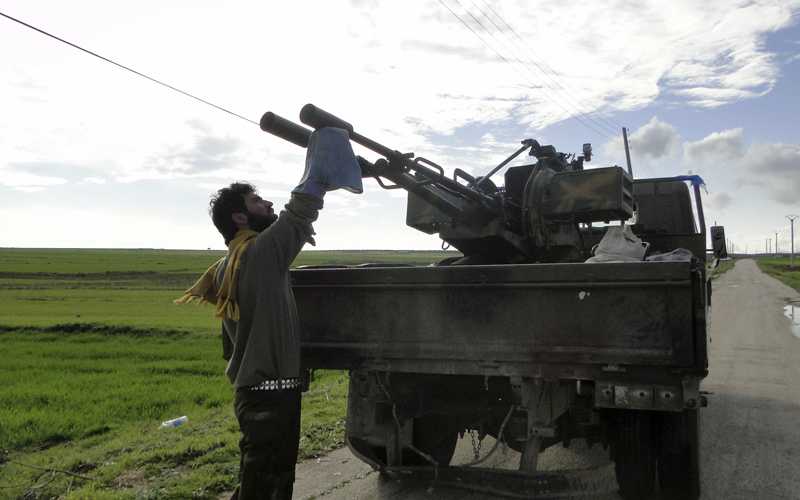 Syrian rebels seized a key army checkpoint near Aleppo airport on Monday as they fought with troops to control several airports in the north, the Syrian Observatory for Human Rights reported.
"The rebels seized a checkpoint several hundred metres (yards) away from Nayrab military airport," on the road leading to Aleppo international airport, Observatory director Rami Abdel Rahman told AFP.
Rebels also clashed with troops along the airport road, he added.
The advance is the latest in a series by the rebels since they captured last week air bases at Al-Jarrah, Hassel and Base 80, also in Aleppo province.
On February 12, rebels launched a battle to capture the main air base and international airport in Aleppo province, in a bid to stall the air force's deadly firepower and to capture ammunition from its warehouses.
The rebels are trying to capture the international airport, which has been closed since January 1.
The Syrian army, meanwhile, is preparing to "cleanse" in the next 48 hours insurgent-held areas in the strategic northern province, the pro-regime Watan newspaper reported.
Troops were now focused on "putting a stop to battles taking place around Base 80" which is tasked with securing the international airport and nearby Nayrab military base, Al-Watan said.
"The army should impose its control on Base 80 (after) cleansing areas seized by armed men," it said, adding that "the security situation in Aleppo is improving."
Meanwhile the Observatory reported fierce battles in several parts of Aleppo city, among them central Sabaa Bahrat and Bustan al-Qasr districts.
Rebels also overran a checkpoint in southern Daraa province, freeing up a road leading to Jordan, said the Britain-based monitoring group, adding that the border post is still in regime hands.
The army also pounded the Qalaat al-Madiq area of Hama province, in central Syria, said the Observatory, while Al-Watan said the army killed seven Chechens who had joined the insurgents' ranks.
At least 122 people were killed in violence across the country on Sunday, said the Observatory.
Syria's nearly two-year conflict has left more than 70,000 people dead, the UN says.
Follow Emirates 24|7 on Google News.