Record-setting Hurricane Dorian keeps pounding north Bahamas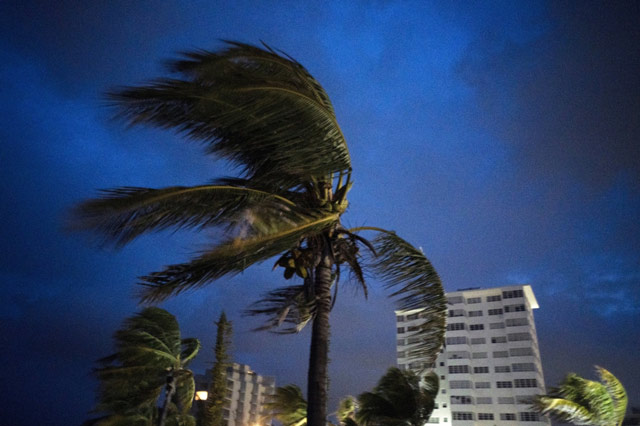 In a slow, relentless advance, a catastrophic Hurricane Dorian keeps pounding at the northern Bahamas, as one of the strongest Atlantic storms ever recorded leaves wrecked homes, shredded roofs, tumbled cars and toppled power poles in its wake.
The storm's top sustained winds have decreased slightly to 180 mph (285 kph) while it spun along Grand Bahama island early Monday in what forecasters say will be a daylong assault.
Photo: AFP
Earlier, Dorian churned over Abaco island with battering winds and surf during Sunday.
Photo: AFP
There is little information from the affected islands, though officials expect many residents to be left homeless.
Photo: AP
Most people went to shelters as the storm approached, with tourist hotels shutting down and residents boarded up their homes.
Evacuations begin as Dorian bears down on northern Bahamas
Hurricane Dorian bore down on the northern Bahamas on Saturday with howling winds, surging seas and a threat of torrential rains, forcing some Evacuations and hotel closures ahead of the fierce Category 4 storm.
Forecasters expected Dorian, packing 150 mph (240 kph) winds, to hit some Bahamian islands Sunday before heading near Florida and then skirting along or off the U.S. Southeast seacoast.
The projected turn north in the coming days could spare the U.S. a direct hit, but would still threaten Florida, Georgia and the Carolinas with powerful winds and rising ocean water that could cause potentially deadly flooding.
In the Bahamas, tourists were sent to government shelters in schools, churches and other buildings offering protection from the storm while residents were evacuating.
"My home is all battened up, and I'm preparing right now to leave in a couple of minutes. ... We're not taking no chances," said Margaret Bassett, a ferry boat driver for the Deep Water Cay resort. "They said evacuate, you have to evacuate. It's for the best interests of the people."
Over two or three days, the hurricane could dump as much as 4 feet (1 meter) of rain, unleash devastating winds and whip up a dangerous storm surge, said private meteorologist Ryan Maue and some of the most reliable computer models.
Bahamas Prime Minister Hubert Minnis warned that Dorian is a "dangerous storm," saying that people "who do not evacuate are placing themselves in extreme danger and can expect a catastrophic consequence."
Government spokesman Kevin Harris told The Associated Press that the hurricane was expected to affect some 73,000 residents and 21,000 homes.
He said authorities had closed airports in The Abaco Islands, Grand Bahama and Bimini, but Lynden Pindling International Airport in the capital of Nassau would remain open.
The storm-prone Bahamas archipelago on average takes a direct hit from a hurricane every four years, officials say.
Construction codes require homes to have metal reinforcements for roof beams to withstand winds into the upper limits of a Category 4 hurricane, and compliance is generally tight for residents who can afford it.
Poorer communities typically have wooden homes and are generally lower-lying, placing them at tremendous risk.
After walloping the northern Bahamas, Dorian was expected to dance up the U.S. Southeast coast, staying just off the shores of Florida and Georgia on Tuesday and Wednesday before skirting South Carolina and North Carolina on Thursday.
Follow Emirates 24|7 on Google News.