Respite for besieged city of Homs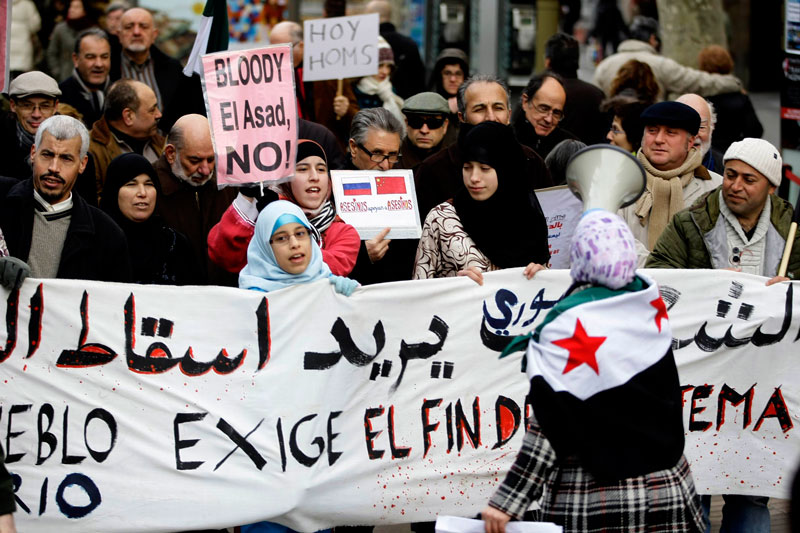 Traumatised residents straggled from their homes in Homs city on Sunday after Syrian forces eased a week-long bombardment that has killed hundreds and caused a humanitarian crisis.
A few families were allowed to leave opposition districts where people had been trapped indoors for days by relentless artillery and sniper fire, residents said.
The respite in Homs, at the heart of an uprising against President Bashar Al Assad's 11-year rule, coincided with a meeting of the Arab League in Cairo on Sunday.
The League was to discuss a possible joint United Nations-Arab monitoring team, which would replace a League mission called off last month.
An official source at the League said the meeting would also consider appointing a UN-Arab League envoy for Syria. Some states may also propose the League formally recognise the Syrian National Council, an opposition group in exile.
In the western city of Homs, shelling eased during Saturday night and Sunday morning.
About 15 families were allowed to leave from the battered Baba Amro and Inshaat neighbourhoods, opposition campaigner Mohammad Al Hassan told Reuters by telephone from Homs.
"Heavy artillery has given way to sporadic anti-aircraft gun fire overnight, and rumours are being circulated by the regime that it is okay to go out in the streets today, but no one is doing that because no one believes them," he said.
Electricity and telephone lines were working in several districts of Homs after being cut off more than two weeks ago.
YouTube footage showed several thousand people rallying in Deir Baalba district. Youths with their arms around each other's shoulders danced and waved the green and white flags of the republic overthrown by Assad's Baath Party in a 1963 coup.
"God damn your soul, to hell with you Bashar. Our martyrs are going to heaven, Hafez and Bashar," they chanted, referring to the president and his late father.
The opposition Local Coordination Committees cited doctors at makeshift hospitals as saying at least 31 people were killed in Homs on Saturday before the lull in bombardment.
In a rare show of compromise, government forces and rebels struck a truce in the town of Zabadani near the Lebanese border after a week of shelling by the military. Opposition sources say no similar negotiations have taken place in Homs.
Under the agreement, reached after a week-long tank and artillery bombardment that killed at least 100 in the town of 20,000, rebel forces were being allowed to leave if they gave up weapons and armour seized from government forces, said Kamal Al Labwani, an opposition leader in exile.
"Cooler heads in the military somehow prevailed over whoever has been issuing orders to shell Zabadani with heavy artillery. In the end it was in the interest of the two sides to prevent a bloodbath," Labwani said.

Follow Emirates 24|7 on Google News.