Ruler of Sharjah gifts latest historical works to Sultan of Oman during Muscat International Book Fair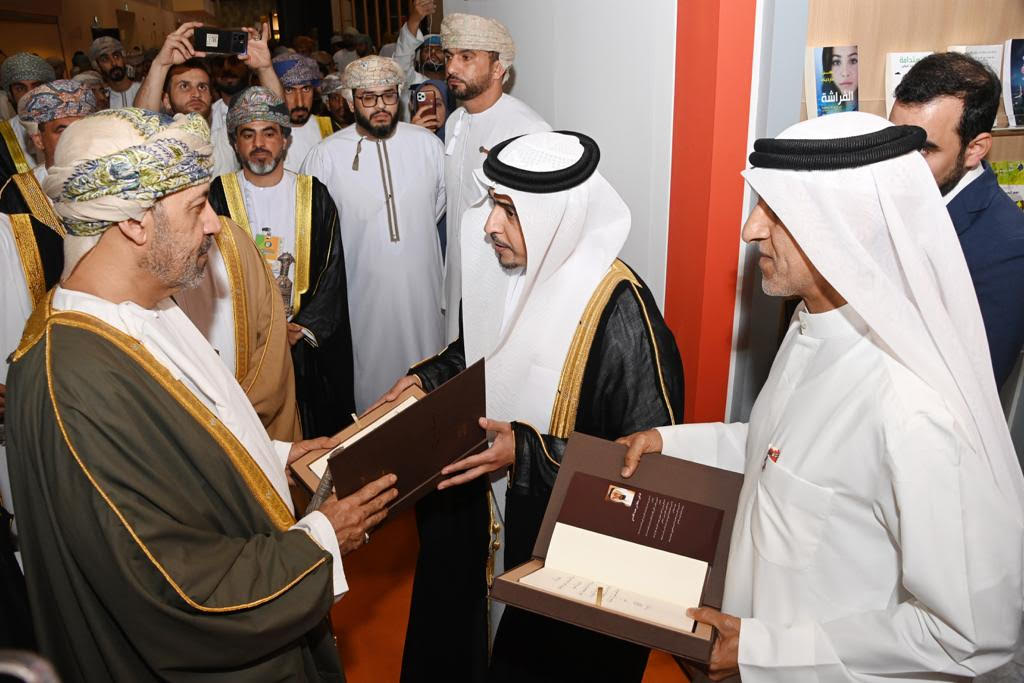 His Highness Sheikh Dr. Sultan bin Mohammed AlQasimi, Member of the Supreme Council and Ruler of Sharjah, has presented His Majesty Haitham bin Tariq Al Said, Sultan of Oman, with a signed copy of his latest historical works, 'The History of Bo Saeed Imams in Oman 1749 – 1856'. The book is the fourth instalment of the acclaimed Sultan Al-Tawarikh series, which delves into the recent history of Oman under the rule of four imams, whose leadership helped strengthen cohesion, countered tribal divisions, and prevented territorial fragmentation driven by foreign ambitions.
The signed copy was delivered by HE Ahmed bin Rakkad Al Ameri, Chairman of the Sharjah Book Authority (SBA), and received on behalf of the Sultan of Oman by HE Sayyid Hamoud Faisal Al Busaidi, Omani Minister of Interior. Additionally, Al Ameri presented a signed copy to His Highness Sayyid Dhi Yazan Haitham Al Said, Minister of Culture, Sports, and Youth, which was received by HE Sayyid Said bin Sultan al Busaidi, Undersecretary of Ministry of Culture, Sports and Youth for Culture, along with a signed copy for the Minister of Interior.
This took place during a visit to the SBA pavilion at the ongoing 27th Muscat International Book Fair, which will run until March 4. The Minister of Interior was accompanied by a group of officials and representatives of cultural institutions in Oman.
During the visit, Al Ameri conveyed His Highness's greetings to His Majesty the Sultan of Oman and the Omani people, emphasising the strong and historic bonds between the two countries. The Omani Minister expressed his appreciation and gratitude for the valuable gift and highlighted the significant status of the Ruler of Sharjah among the government and people of Oman.
Al Ameri praised 'The History of Bo Saeed Imams in Oman 1749 – 1856,' describing it as a qualitative and valuable addition to the Arabic literary scene and GCC libraries. He further noted that the Sultan Al-Tawarikh series provides an important window into the pivotal stages of the region's history, with a specific focus on Oman, a country with a rich history and central role in the Arabian Gulf.
Commenting on the prestigious gifting the SBA Chairman said, "I was honoured to present a copy signed by His Highness the Ruler of Sharjah to the Omani government. This gift embodies the good relations that unite the Emiratis with the Omani people and carries an important message about the central role of books in providing necessary historical references to continue the comprehensive development process for the region based on respect, appreciation, cooperation and work."
The Ruler of Sharjah has published 80 works in history, drama, and literature, with many translated into 20 languages.
Follow Emirates 24|7 on Google News.