Russia slams vast criminal cash export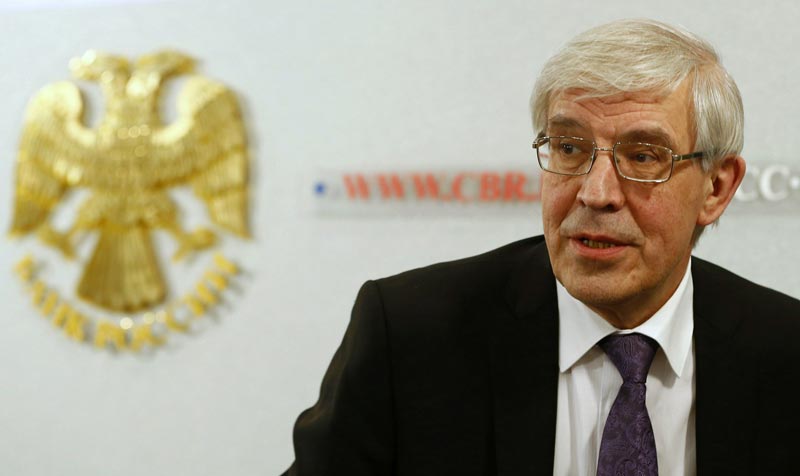 Russia's central bank chief complained on Wednesday that some 2.5 per cent of the national income was illegally siphoned abroad last year - a revelation critics said showed the extent of corruption under Vladimir Putin.

Bank of Russia chairman Sergei Ignatyev, who is about to retire, reckoned much of that sum, close to $50 billion, was controlled by a single group of people; he did not identify them but many saw it as an indictment of the "Kremlin capitalism" which has taken hold since Putin first became president in 2000.

One prominent critic called it "state money-laundering".

"You get the impression that they are all controlled by one well organised group of people," Ignatyev told Vedomosti newspaper in a front-page interview after a Bank study found more than half the flows involved firms linked to each other.

"With a serious concentration of efforts by law enforcement agencies, I think it is possible to find these people," added Ignatyev, 65, who will retire in June after 11 years running an institution which has won widespread respect for integrity.
No successor has yet been named.

He called for urgent legislation what would allow banks to close down accounts suspected of being used for dubious purposes and urged lawmakers to tighten rules on setting up companies.

Yet in an indication of its sensitivity, Ignatyev did not touch at all on the subject of illegal capital flight in testimony on Wednesday to the Federation Council, the upper house of parliament. Nor was he asked about it by lawmakers.

Asked by a reporter beforehand to identify the "well organised group" he had spoken of, Ignatyev declined comment.

"STATE MONEY LAUNDERING"

The central bank study found that $49 billion, or around 2.5 percent of gross domestic product, was spirited illegally out of Russia last year. It gave no comparative figures.

"It can be payment for narcotics ... 'grey' imports ... bribes and kickbacks to officials (and) managers making large-scale purchases," Ignatyev told Vedomosti. "It can be schemes to avoid tax."

Of the total illegal outflow, the central bank estimated that $14 billion was linked to trade, with the rest made up of $35.1 billion in "dubious" capital transfers.

The latter represents 60 per cent of last year's officially reported total net capital outflow of $56.8 billion.

The Kremlin took note of the central bank's conclusions, but spokesman Dmitry Peskov called its figures "highly exaggerated". Peskov cited state-backed research showing capital flight from Russia was much lower.

William Browder, the founder of a $4-billion investment fund who was barred from Russia in 2005, said Ignatyev's comments showed a vast state money-laundering scheme was operating in Russia involving officials from the top down.

His Hermitage Capital Management has accused Russian law enforcement officials of stealing $230 million by seizing control of its companies and fraudulently securing a tax rebate.

He told Reuters that the Hermitage case was "the tip of the iceberg, and a documented example of how this state money-laundering scheme works".

Sergei Magnitsky, a lawyer working for Hermitage Capital Management, died in custody in 2009 after being arrested while investigating suspected fraud and theft from the state by Russian officials.

Media magnate Alexander Lebedev said in an Internet blog that Ignatyev's statement was long overdue.

"Let's hope the next head of the central bank heeds these words," said Lebedev, whose Russian business interests have come under official pressure and who faces trial over punches thrown during a television talk show.

SHELL COMPANIES

Anti-corruption activists say that capital flight can take any number of forms, with some banks shifting money through complex paper trails, shell companies and so-called "encashment" schemes designed to evade regulators.

"One-day companies" - "odnodnevki" in Russian - are "the bane of our economy", Ignatyev said, repeating well known complaints about companies that spring up to commit tax fraud only to promptly vanish again. Nominee directors, hired for a fee, typically have no idea of crimes their firms commit.

Big state enterprises in particular are involved in shifting large sums of cash abroad, sources say, while Russia's super-rich "oligarchs" use offshore centres to safeguard businesses.

Statistics show that Cyprus, a favoured holiday spot for Russians, is the largest source of foreign investment into Russia. Most of the money coming from the island, within the European Union, is itself Russian in origin, bankers say.

The amount of dirty money flowing in and out of Russia has more than doubled over the past eight years, robbing the country of productive capital and driving a huge underground economy, a recent study by a U.S. think-tank found.

Washington-based Global Financial Integrity estimated that an average of $62 billion in money earned from corruption, human trafficking, arms smuggling and other illegal activities has entered or left Russia each year since the start of 2004.

That is a 228 per cent increase from the $27 billion in illicit funds seen annually on average in the prior decade, the study found.


Follow Emirates 24|7 on Google News.