Saif Gaddafi's "bloody war" warning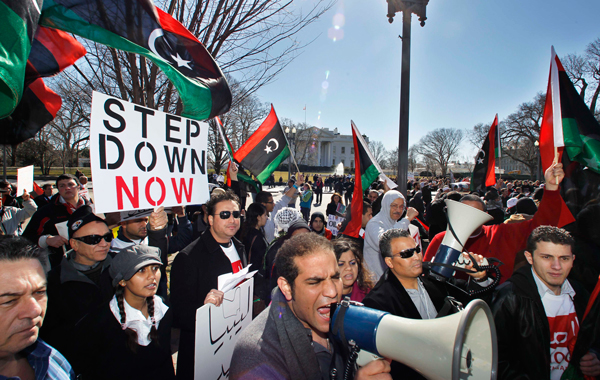 Libyan leader Muammar Gaddafi's son warned Monday that the country faces a bloody civil war if protesters refuse to accept reform offers, in a speech broadcast as gunfire rang out in the capital.
Saif al-Islam Gaddafi condemned the unprecedented uprising against his father's 41-year rule as a foreign plot, but admitted mistakes were made in a brutal crackdown and urged citizens to build a "new Libya".
"Libya is at a crossroads. If we do not agree today on reforms, we will not be mourning 84 people, but thousands of deaths, and rivers of blood will run through Libya," he said.
Gaddafi's son gave a lower toll than the United States and rights watchdogs who said that hundreds are feared dead in an offensive to crush the uprising carried out by the military, reportedly backed by foreign mercenaries.
Heavy gunfire broke out in central Tripoli and several city areas Monday for the first time since the anti-regime uprising began in eastern Libya, witnesses and an AFP journalist reported.
Witnesses reported clashes in Tripoli's downtown Green Square between protesters and Gaddafi's supporters.
A witness in the working-class Gurgi area said security forces fired tear gas to disperse protesters.
Confusion prevailed in the city after Gaddafi's speech and unconfirmed rumours that his father had left Libya triggered sounds of celebration, with women ululating and drivers hooting their car horns.
According to Human Rights Watch, at least 173 people have died in Libya since the anti-regime protests broke out on February 15 after similar uprisings in Tunisia and Egypt which ended the long rule of two veteran leaders.
The unrest has spread from the flashpoint city of Benghazi, where demonstrations began on Tuesday, to the Mediterranean town of Misrata, just 200 kilometres (120 miles) from Tripoli.
"This is an opposition movement, a separatist movement which threatens the unity of Libya," Gaddafi's said in a fiery but rambling speech which blamed Arab and African elements for fomenting the troubles.
"We will take up arms... we will fight to the last bullet," he said. "We will destroy seditious elements. If everybody is armed, it is civil war, we will kill each other."
"Libya is not Egypt, it is not Tunisia," he said, adding that attempts at another "Facebook revolution" would be resisted.
But Saif al-Islam Gaddafi's threats betrayed a note of desperation, and he suggested that the eastern city of Benghazi, Libya's second city, was now out of government control.
"At this moment there are tanks being driven by civilians in Benghazi," he said, insisting the uprising was aimed at installing Islamist rule and that it would be ruthlessly crushed.
And despite the tough talk and finger-wagging, Gaddafi also made some concessions -- pledging a new constitution and liberal laws with more media freedom.
"If you want us to change the flag and national anthem, we will."
He also admitted "mistakes" on the part of the army in containing the riots, saying they were "not trained to contain riots" and were responding to attacks by "people on drugs."
Gaddafi also underscored Libya's vast oil wealth and issued a trenchant warning to foreign companies.
"We have one resource that we live on and that is petrol," he said. "All the foreign companies will be forced to leave the country."
Prime Minister Baghdadi Mahmudi meanwhile told EU ambassadors in Tripoli that there are "very precise plans, destructive and terrorist, that want Libya to become a base for terrorism."
But in a significant crack in the regime's public face, Libya's envoy to the 22-member Arab League announced he was "joining the revolution."
"I have submitted my resignation in protest against the acts of repression and violence against demonstrators and I am joining the ranks of the revolution," Abdel Moneim al-Honi said.
A Libyan diplomat posted in China also resigned and called on the army to intervene in the bloody uprising, the Al Jazeera news network reported.
The diplomat, Hussein Sadiq al Musrati, also said Gaddafi's "may have left Libya" and that there had been a "gunfight" between his sons, the network added, while noting it was unable to confirm those statements.
Musrati is listed as the second secretary in the Libyan mission to Beijing. Embassy staff told AFP on Monday that officials were not available for comment on the report.
In Benghazi, which has borne the brunt of the violence, protests continued, lawyer Mohammed al-Mughrabi told AFP by telephone.
"Lawyers are demonstrating outside the Northern Benghazi court; there are thousands here. We have called it Tahrir Square Two," he said of the Cairo square central to protests that brought down Egyptian president Hosni Mubarak.
Witnesses told AFP by telephone that security forces also clashed with anti-regime protesters in Misrata, saying security forces, backed by "African mercenaries," fired on crowds "without discrimination."
The United States and the European Union have strongly condemned the use of lethal force in Libya.
UN chief Ban Ki-moon called for "the non-use of force and respect for basic freedoms" in North African and Middle Eastern countries after Gaddafi's speech.
Follow Emirates 24|7 on Google News.