Saudi deported from Saudi Arabia for 'illegal stay'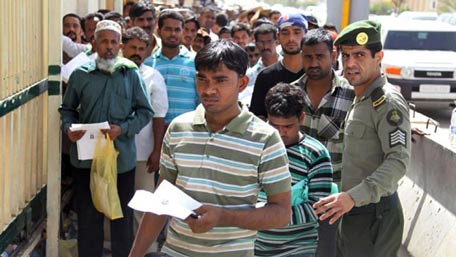 A Saudi man was deported from his own country after immigration authorities mistook him for an illegal Nigerian migrant within a massive expatriate deportation drive after the end of a government amnesty for foreigners last week.
Waleed Billo, who is reported to have a speech impediment, was arrested while walking back home in the Western Red Sea port of Jeddah and locked up along with scores of Nigerians and other illegal migrants.
A week later, he was deported to Nigeria although he desperately tried to make authorities understand he was a Saudi.
His brother Mohammed said Waleed was reported later to have been knocked over by a car and taken to hospital in Nigeria, adding that he flew to the African country and sought help from the government and residents to find Waleed.
"We brought him back home and took him to the hospital, where he stayed for 10 days.
"We had thought he was missing but were later told by some Nigerians he was deported," he said, quoted by the Arabic language daily Arar.
"The incident caused my mother to fall ill.
"He cannot speak but they just deported him without checking. We now intend to file a lawsuit against those who were responsible for my brother's deportation and suffering."
Saudi authorities have mounted an extensive campaign to arrest illegal migrants after the end of a seven-month amnesty, which led to the departure of more than one million expatriates, mostly Asians and Africans.
Foreigners in Saudi Arabia, the largest Arab economy and the world's top oil exporter, are estimated at nine million, nearly a third of the country's total population.
Yemeni deported from Saudi ends life

A 20-year-old Yemeni man committed a suicide a few days after he was deported from Saudi Arabia for staying illegally in the Gulf Kingdom. Yemeni newspapers said Hani Mahioub was found hanging at his home in the southwestern Yemeni province of Taaz.
Mahioub was among thousands of expatriates from Yemen and other countries deported by Saudi Arabia after the end of a 7-month amnesty for illegal migrants.

Follow Emirates 24|7 on Google News.