Saudi suspends Binladin group for Grand Mosque crane crash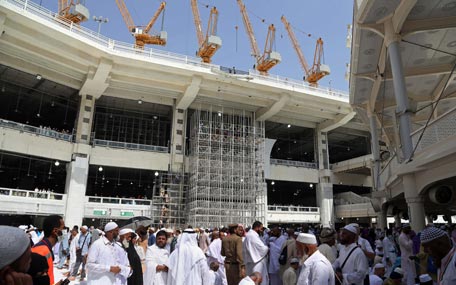 Saudi Arabia suspended major construction company Binladin group from new contracts following the Makkah crane crash that killed 107 people and ordered the finance ministry to review its existing projects, the royal court said on Monday.
King Salman also ordered that all members of the board and senior executives be prevented from travelling abroad after an investigation into last week's incident showed the crane had been erected in a way that deviated from manufacturers instructions, causing it to crash in high wind.
1m riyal compensation for each victim
Explaining the action, an official statement referred without elaborating to the responsibility and "shortcomings" of the company following an investigation into the crane crash that also injured 238 other people.
The king ordered that the Binladin group be prevented from entering into new bids or new projects, said the statement, carried by state news agency SPA.
The suspension would remain in force until the investigation is complete and until all legal cases are settled.
The crane toppled over at Makkah's Grand Mosque last Friday, less than two weeks before Islam's annual Haj pilgrimage.
The Binladin group, one of the largest contracting companies in the kingdom, had been carrying expansion work at the Grand Mosque.
A statement by a spokesman for the administration of the mosques in Makkah and Madina said the crane smashed into the part of the Grand Mosque where worshippers circle the Kaaba.
Follow Emirates 24|7 on Google News.