Saudis are with people and government of Egypt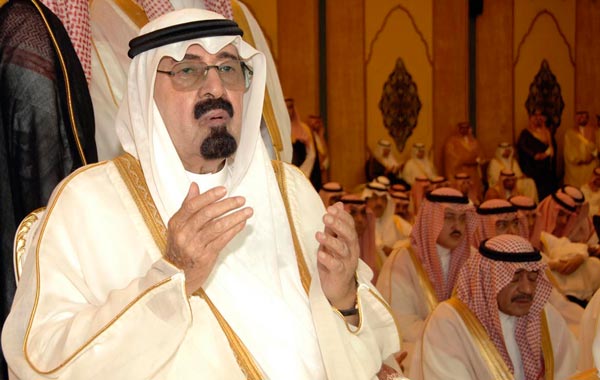 Saudi King Abdullah has expressed his support for embattled President Hosni Mubarak and slammed those "tampering" with Egypt's security and stability, state news agency SPA reported on Saturday.
The Saudi ruler, in Morocco recovering from back surgery performed in the United States, telephoned Mubarak early Saturday, the report said.
During the conversation, Abdullah condemned "intruders" he said were "tampering with Egypt's security and stability ... in the name of freedom of expression."
Saudi Arabia, he added, "stands with all its means with the government and people of Egypt."
SPA said Mubarak had responded by assuring King Abdullah that "the situation is stable (in Egypt) ... and what the world has seen is nothing more than an attempt by some ... suspicious groups which do not want stability and security for Egyptians."
Mubarak, known for his close ties with the Saudi king, had added, "Egypt and its people are determined to stop those trying to use the freedom given (to Egyptians) to achieve suspicious agendas," SPA said.
Tens of thousands of anti-regime demonstrators poured onto Cairo's streets again Saturday as massive protests against the rule of Mubarak raged into a fifth straight day.
The 82-year-old Egyptian leader in a television address early Saturday said he would replace his cabinet and vowed economic and political reforms in the world's most populous Arab nation, but showed no sign of easing his decades-old grip on power.
Earlier this month, Saudi Arabia granted asylum to Tunisian strongman Zine El Abidine Ben Ali after he was toppled in what has been dubbed "The Jasmine Revolution."
Saudi foreign ministry spokesman Osama Nogali said the decision to give shelter to Ben Ali was so as to try to "help defuse the crisis and prevent the bloodshed of the Tunisian people."
Saudi Arabia has kept a total blackout on Ben Ali's activities since he landed in the Red Sea port city of Jeddah early on January 15 with six members of his family.
The kingdom has sheltered other exiled leaders in the past, including former Ugandan dictator Idi Amin and former Pakistani prime minister Nawaz Sharif.
Follow Emirates 24|7 on Google News.