Siamese twins separated in 10hr operation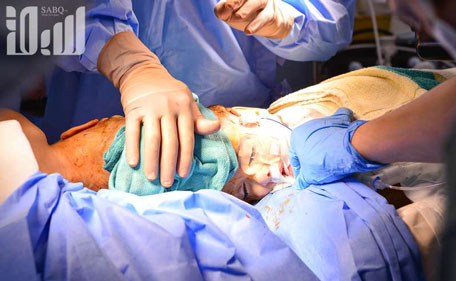 Nearly 22 doctors and nurses joined hands to separate Syrian Siamese twins conjoined at the head in a 10-hour operation described as one of the most difficult surgeries.
The baby girls Tuqa and Yaqeen had been flown from Syria for the operation in Saudi Arabia on orders by King Salman bin Abdul Aziz, 'Sabq' newspaper said.
The operation was performed in six stages at King Abdul Aziz Medical City in the capital Riyadh on Sunday and it lasted around 10.45 hours, it said without specifying their age.
"We had expected the operation to last 12 hours but we finished it in 10.45 hours," said Dr Ahmed Al Faryan, a brain consultant, who led the operating team.
"The twins were conjoined at the head and this is one of the most complicated and difficult Siamese cases."
The paper said the two babies were to have minor operations separately later on Monday.
Follow Emirates 24|7 on Google News.