Sick son wants to "split mum's head off body"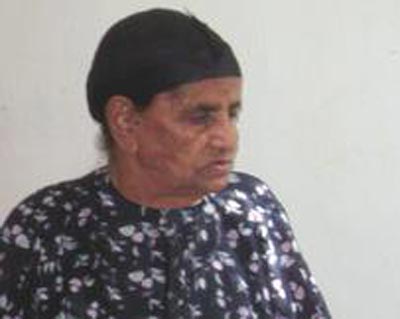 A Saudi man who plunged into mental illness 10 years ago is pouring his occasional fits of fury on his lonely 90-year-old mother, threatening to use his massive axe to split her head off her body.
Umm Ali has just managed to reach a reporter of a Saudi newspaper and told him how her 45-year-old son has turned her life into hell and pushed her into a state of horror just because she could no longer get his medical pills.
In its report from a tiny village in the southwestern province of Jazan, Shams Arabic language daily said Umm Ali told its reporter that her son suffered from a mental illness nearly 10 years ago and that she had used to go to the clinic to get his pills, which she said helped him calm down and have a sound sleep.
"I had lived with my son for 45 years and he became my only companion since my husband died…around 10 years ago, he suffered from a psychological problem and his character and temper drastically change…..
"I took him to the hospital and they gave him medicine…ever since, I used to go and get his medicine which helped him sleep soundly and stay calm…but a few months ago, he became very aggressive and savage after I could no longer go to the clinic to bring his pills because of old age…
"All my friends and neighbours who used to visit me no longer come to my house because he has become very hostile and dangerous….he now has a big axe, which he hides under his bed…he threatened all my neighbours so they will not come again to house and now he started to threaten me….
"I am subject to his threats day and nights…he keeps telling me that he would split my head off my body sooner or later and that no one will save me from him…I am very frightened as he could carry out his threat any time…I can not resist him and no one might come and help me…I just appeal for the authorities to end my daily agony and take my son to the hospital for treatment…I just want to live my remaining days in peace not in fear."
Shams quoted Jazan police spokesman Captain Abdullah Al Qarni as saying they would contact the nearest police centre in that area so they can visit the woman and try to help her.
Follow Emirates 24|7 on Google News.