Stranded mountain climbers in Pakistan to be rescued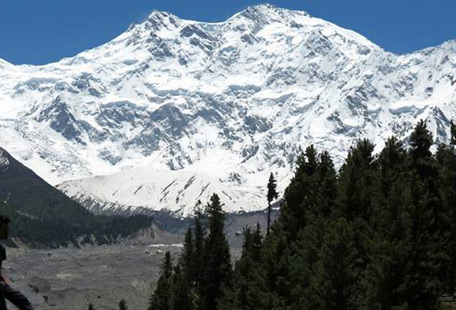 Two alpinists who went missing while attempting to climb Pakistan's second-highest mountain Nanga Parbat have been spotted and a rescue mission is to be launched on Saturday, sources said.
Elisabeth Revol, from France, and Polish national Tomek Mackiewicz were seen through binoculars by fellow climbers at the base camp, Karim Shah, a local climber who is in contact with the base camp team told AFP.
"The military has two helicopters ready who will move four Polish mountaineers who are already on a summit on K-2 to Nanga Parbat for the rescue mission," he said.
Shah said Revol was spotted Friday attempting to climb down while Mackiewicz appeared to be crawling due to frostbite.
"They had spent one night outside the camp and the Polish mountaineer has got frostbite and snow blindness so he is not able to climb down," he added.
His account was confirmed by an official from the tour company that arranged the expedition.
Nanga Parbat, in northern Pakistan, is the world's ninth highest mountain at 8,125 metres (26,660 feet).
It was nicknamed "killer mountain" after more than 30 climbers died trying to conquer it before the first successful summit in 1953.
In July last year, a Spaniard and an Argentinian were presumed dead after they went missing while trying to summit Nanga Parbat.
Follow Emirates 24|7 on Google News.