Syria opposition wants UN seat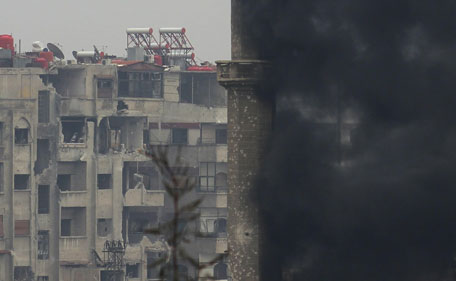 Syria's opposition coalition is opening offices in Washington and New York as part of a drive to take the country's UN seat from President Bashar Al Assad's government, its new US representative said Wednesday.

Syrian National Council leader Ahmed Moaz Al Khatib has also received an invitation from the US government to visit Washington and could seek meetings with top UN officials, coalition envoy Najib Ghadbian told AFP.

"The Assad regime has lost its legitimacy, so we have the goal of taking over the Syrian seat at the UN," Ghadbian said, while acknowledging that it would be a "long legal and political battle."

"We understand that it will be a long and difficult process, but we want to start right away," said Ghadbian, a professor of politics at the University of Arkansas, who has just been named the coalition representative to the United States.

"There is always the prospect that the regime could collapse and we want to be ready for that," he said.

The 22-month-old Syrian civil war, which has left more than 60,000 dead, has caused a schism in the 15-member UN Security Council. Russia and China have blocked three western-proposed resolutions aiming to put pressure on Assad.

Russia has insisted that foreign powers cannot force Assad out of power.

UN-Arab League envoy Lakhdar Brahimi has been seeking to overcome divisions between Russia and the United States so there can be an international plan for talks on a transition in Syria.

Ghadbian said coalition leader Khatib, who has offered talks with Syrian government figures, has been invited to Washington, but did not give a date for a visit. He said Khatib could seek a meeting with UN Secretary General Ban Ki-moon and that the coalition would like more meetings with Russian envoys.

Ghadbian said the coalition council has staff in Washington and would take over offices there next week. It is looking for a New York office to open quickly.

He has been in New York this week meeting with diplomats from the main western powers at the United Nations and officials from UN humanitarian and human rights agencies.

The opposition coalition already has seven foreign offices including in Britain, France, Qatar and Turkey.

The US State Department said it was in talks with the coalition about the Washington office. "With regard to an office in New York, we're supportive of that too," State Department spokeswoman Victoria Nuland said.

The United States recognized the opposition coalition as the legitimate representative of the Syrian people late last year, and has been working with it to help oust Assad.
Follow Emirates 24|7 on Google News.