Syria plans ceasefire with rebels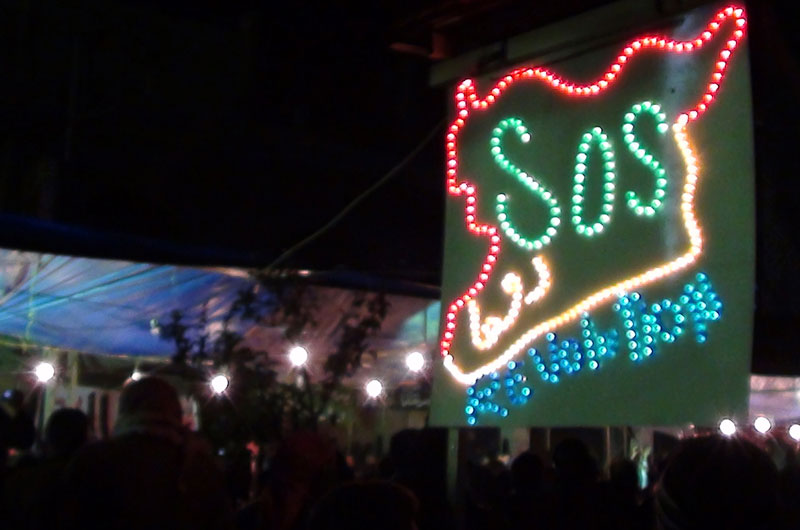 Syrian authorities are holding ceasefire talks with rebels who have seized some areas near Damascus, a local official said on Thursday, in a sign that a 10-month-old revolt against President Bashar Al Assad has crept close to the capital.
Activists in the restive northeastern suburbs of Douma, Harasta and Irbin, some of which lie within 8km of central Damascus, said they heard explosions from overnight clashes between security forces and insurgents.
Gunfire was close enough to be heard from central Damascus during the night.
"Many of them (in the opposition) have been misled. They will eventually come back to the right way," Hussein Makhlouf, governor of Damascus countryside, told Arab League monitors before they headed for Irbin on their first outing in a week.
"We have started a dialogue with them, including some armed groups that are controlling positions there," Makhlouf said.
He told the monitors that the authorities were using "the same approach as in Zabadani, so the same scenario will happen".
This month the military withdrew armoured vehicles encircling the rebel-held town of Zabadani, near the border with Lebanon, after negotiating a truce with its defenders.
Arab observers stopped just outside Irbin, where a dozen soldiers stood guard. Beyond them a crowd of about 100 anti-Assad protesters shouted "Allahu akbar (God is great)".
The troops showed the monitors the body of a soldier and another person they said had been killed in the morning.
The Arab observers soon drove away from the tense scene and their next destination was not immediately clear.

MONITORS RESUME WORK

The monitors, now without 55 Gulf Arab colleagues withdrawn by their governments this week in protest at continued bloodshed, resumed work after a one-week gap during which the Arab League prolonged their mission by another month.
One monitor said he was confused about the extension. "The report has been written and the (League) decisions have been taken, so another month to do what? We are not sure," he said.
Syrian opposition groups have accused the observer mission, which deployed on December 26, of giving Assad diplomatic cover to pursue a crackdown on protesters and rebels.

The Arab League called on Sunday for Assad to quit as part of a transition plan for which it is seeking UN support.

France and Britain have joined efforts at the United Nations to end Assad's rule, but Russian Foreign Minister Sergei Lavrov said his country remained opposed to sanctions on Syria and reiterated its opposition to military intervention.

The Security Council could vote as early as next week on a Western-Arab draft resolution, council diplomats said.
In recent months, an insurgency by army deserters and other rebels has increasingly eclipsed peaceful protests against more than four decades of rule by the Assad family.
Activists said the army deployment and clashes in townships around Damascus were a response to insurgents' growing strength.
"The Free Syrian Army (FSA) has almost complete control of some areas of the Damascus countryside and some control in Douma and Harasta," an activist who gave his name as Hussein told Reuters by telephone from the suburb of Harasta.
Other activists in Douma, Harasta and Irbin said security forces had gathered in their towns after rebels retreated because they could not fight pitched battles with the army.
"Assad's army has armoured vehicles and anti-aircraft guns while we only have rifles and rocket-propelled grenades (RPGs)," said an FSA fighter who calls himself Abu Thaer.
Activists said five people were wounded by army shelling on Wednesday night, but gave no details of rebel casualties.

RED CRESCENT OFFICIAL KILLED
In violence on Wednesday, the head of the Syrian Arab Red Crescent in the northern town of Idlib was shot dead.
The opposition Local Coordinating Committees group said a total of 27 people had been killed, including six FSA fighters.
Fourteen members of the security forces were buried on Wednesday, the state news agency Sana said, describing them as martyrs killed by "armed terrorist groups" across the country. It also said five security men had been killed during an attack on a police station in the town of Apamea in Hama province.
Syrian authorities say insurgents have killed 2,000 soldiers and police since the anti-Assad revolt erupted in March.
Despite the mounting death toll, an ICRC official said the Syria unrest did not meet the group's definition of civil war.
"The threshold has not yet been passed to speak of an armed conflict," Beatrice Megevand-Roggo, head of ICRC operations for the Near and Middle East, told Reuters in Geneva.
The ICRC's legal criteria for civil war include an opposition that clearly controls territory and has a military structure with a clear chain of command.
The revolt in Syria was inspired by other uprisings that have toppled three autocratic Arab leaders over the past year and the bloodshed has battered Assad's standing in the world.
The Arab League has suspended Syria and called for Assad to hand over to his deputy, pending the formation of a unity government, constitutional and security reform, and elections.

Follow Emirates 24|7 on Google News.