Syria's Assad to make speech on "internal issue"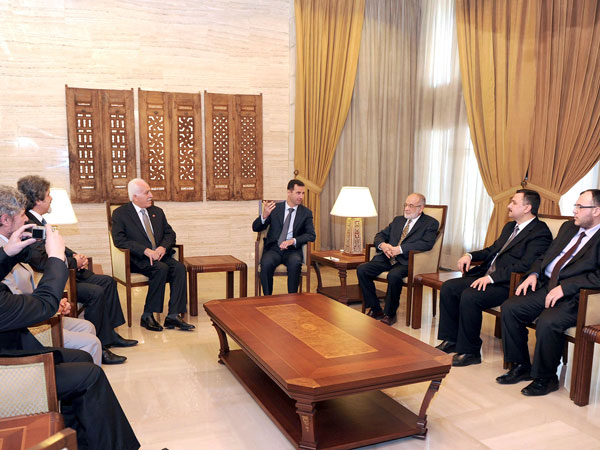 Syria's President Bashar al-Assad, locked in a violent struggle against a wave of unrest, is to make a speech on Tuesday on "the internal issue and international and regional developments", state media said.

The SANA news agency gave no further details. Assad, whose forces are accused of killing thousands of protesters over the last 10 months, is coming under increasing scrutiny from neighbouring states.
Tayyip Erdogan, prime minister of Turkey, said on Monday his country was threatened by the conflict and should take a leading role in dousing it.
"The situation in Syria is heading towards a religious, sectarian, racial war, and this needs to be prevented," he said.
The Arab League, which suspended Syria in November and announced sanctions, has sent a monitoring mission to Syria intended to judge whether it is complying with a peace plan calling for a withdrawal of troops from cities, prisoner releases and political dialogue.
Syrian opposition figures said on Monday the League mission, which began work two weeks ago, has so far succeeded only in giving Assad's government more time to violently crush its opponents.
After a review meeting in Cairo on Sunday, the Arab League said Damascus had only partly implemented its pledges.
Adnan Khodeir, head of the monitors' operations room in the Egyptian capital, said more observers would reach Syria this week, bringing the team's strength to 200 from 165 now.
"The initial report is too vague, and it essentially buys the regime more time," said Rima Fleihan, a member of the Syrian National Council, a leading opposition group in exile.
"We need to know what the League will do if the regime continues its crackdown in the presence of the monitors. At one point it needs to refer Syria to the U.N. Security Council."
The League appears divided over whether to take such a step, which in the case of Libya led to foreign military intervention that helped rebels topple Muammar Gaddafi.
Russia and China have opposed any Security Council move on Syria, while Western powers hostile to Assad have so far shown little appetite for Libya-style intervention in a country that sits in a far more combustible area of the Middle East.
A U.S. State Department spokeswoman said the United States stood ready to provide the League monitors with technical help if asked.
Gunfire erupted near a car carrying Arab monitors away from an anti-Assad demonstration they had attended in the turbulent city of Homs on Monday, but no one was hurt, activists said.
As with most events in Syria, where most independent media are banned, it was impossible to verify the account.
Rami Abdulrahman, of the British-based Syrian Observatory for Human Rights, said keeping the Arab monitors in Syria without a substantial increase in their numbers would only "give the regime more time to deal with the Syrian revolution".
Follow Emirates 24|7 on Google News.