Syria uprising intensifies, spills into Lebanon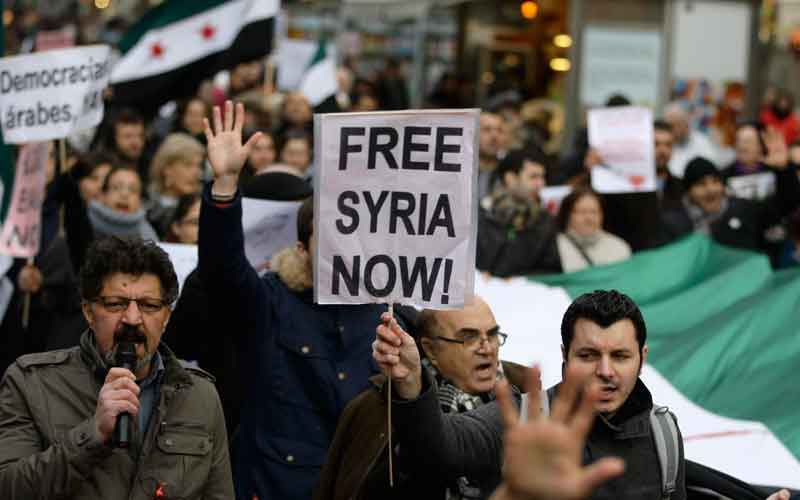 Syrian armour moved against protest flashpoints and a general was gunned down in Damascus on Saturday as the bloodshed showed no signs of abating, even spilling over into Lebanon.
The Syrian National Council, or SNC, said Arab recognition of the opposition umbrella group was imminent, ahead of key talks on the crisis in Cairo on Sunday.
In Aleppo, tensions escalated as President Bashar Al Assad's forces stepped up security after twin car bombs killed 28 people and wounded 235 in Syria's second city on Friday, activists said.
Thirty-one people were killed across the country on Saturday, mostly civilians, said Rami Abdel Rahman of the Britain-based Syrian Observatory for Human Rights.
Tank shelling killed 10 civilians in Homs, nine of them in the rebel stronghold neighbourhood of Baba Amr, Abdel Rahman told AFP. Dozens were wounded.
Assad's forces have waged a brutal week-long onslaught on the central protest city of Homs that has killed at least 500 people since February 4, Abdel Rahman said.
Homs activist Hadi Abdullah accused policemen and soldiers of pillaging the Inshaat neighbourhood. "They are stealing computers, television sets... and even blankets."
Security forces also advanced into Zabadani, another main centre of resistance near Damascus, said Abdel Rahman, adding that three civilians were killed there.
A general was shot dead outside his Damascus home, state media said. If confirmed, this would be one of the most brazen attacks on the top brass in the capital since the uprising erupted in March last year.
"An armed terrorist group this morning assassinated brigadier general and doctor, Issa Al Khawli, the director of Hamish hospital, outside his home in the district of Ruknaddin," Sana state news agency said. A YouTube video posted on the Internet showed Syrian tanks bearing huge portraits of Assad firing on a road in Douma, a Damascus suburb which has been plagued by months of violence. In another video, protesters are seen marching in the Damascus district of Al Aassali carrying banners which said: "We will only kneel before God," and "Long live Syria, down with Bashar al-Assad."
In Lebanon, a 17-year-old girl was among three people killed and 23 were wounded in clashes between Sunni Muslims hostile to Syria's regime and Alawites who support it, a security official said. Ten of the wounded were Lebanese soldiers, including a sergeant in critical condition.
The rival factions in Tripoli fired guns and rocket-propelled grenades at each other in the bloodiest clashes since June, when six people died in the wake of demonstrations against Syria's government. In recent years Tripoli has been rocked by intense clashes between members of its Sunni-majority community and Alawites - the community from which hails the Syrian president.
Syrian state media, meanwhile, blamed "terrorists" for Friday's double car bomb attacks on security posts in Aleppo. The rebel Free Syrian Army accused the "criminal" regime of launching the attacks "to steer attention away from what it is doing in Homs, Zabadani and elsewhere."
A report citing unnamed US officials said the bombings were likely to have been carried out by the Iraqi branch of Al Qaeda, along with attacks on Damascus in December and January. McClatchy Newspapers said the incidents appeared to verify Assad's charges of Al Qaeda involvement in the uprising against his 11-year rule.
And Iraq's deputy interior minister said on Saturday that Jihadists are moving from Iraq to Syria, as are weapons being sent to Assad's opponents.
"We have intelligence information that a number of Iraqi jihadists went to Syria," Adnan al-Assadi told AFP, adding that "weapons smuggling is still ongoing" from Iraq to Syria.
On Saturday, snipers were deployed and at least three armoured vehicles were seen entering Sakhur, an Aleppo neighbourhood where dissent against Assad's regime simmers, one activist said.
Some Aleppo residents who lost family members in the bombings were frustrated by the authorities' refusal to hand over their bodies, an activist who identified himself as Mohammed told AFP from the city. The commercial hub has been largely spared the violence that rights groups say has killed more than 6,000 people in Syria since last March.
In Doha, the SNC's Ahmed Ramadan said the group has "confirmations of an Arab recognition that will soon take place, though not necessarily on Sunday."
Arab League foreign ministers are meeting on Sunday in Cairo to discuss their next move over the Syrian crisis following a meeting of the six-nation energy-rich Gulf Cooperation Council.
Earlier this week the Gulf monarchies said they would withdraw their envoys from Syria and expels Damascus's ambassadors, joining mounting international pressure on Assad over the killings of civilians.
Syria, meanwhile, said it has asked Tunisia and Libya to close their embassies in Damascus in a tit-for-tat move after they both expelled Syria's envoys.
And its neighbour Turkey said it plans to lodge a formal request to the UN for an aid operation to help Syrians suffering a "humanitarian tragedy."
Follow Emirates 24|7 on Google News.