Syria violence spikes as diplomacy heats up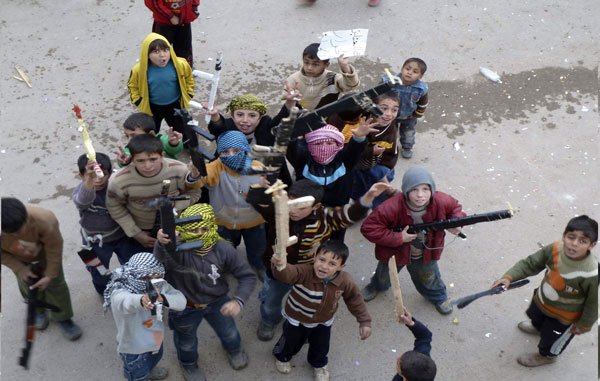 Syrian forces Friday stepped up their deadly crackdown on dissent, with activists reporting almost 100 dead in two days, as violence spiked ahead of a bid to condemn Damascus at the UN Security Council.
The head of the Arab League monitoring mission in Syria said the unrest had soared "in a significant way," especially in the flashpoint central cities of Homs and Hama and in the northern Idlib region since Tuesday.
"The situation at present, in terms of violence, does not help prepare the atmosphere ... to get all sides to sit at the negotiating table," General Mohammed Ahmed Mustafa al-Dabi said in a statement.
Syrian forces on Friday kept up a raid on Homs, where dozens have been killed, as Western and Arab nations rushed to unveil a draft UN resolution that would condemn a crackdown that has killed more than 5,400 since March.
The pre-dawn assault on Homs, and reports of similar offensives against Hama and other cities, came hours after the United Nations said it could no longer keep track of the death toll.
The Syrian Observatory of Human Rights said security forces killed at least 23 civilians on Friday, while 12 soldiers were killed in attacks on the military.
The Britain-based watchdog said 12 people were killed in the southern province of Daraa, five in Aleppo, northern Syria, four in Homs, one in the Damascus area and another in Hama.
The killings in Aleppo were the first reported in Syria's second largest city since the anti-regime uprising broke out in mid-March.
Six soldiers died in a car bomb attack on a security checkpoint in the city of Idlib and another six were killed in Daraa province in clashes with army deserters, the Observatory's Rami Abdel Rahman told AFP.
Updating its toll for Thursday's violence across the country, the Observatory said 62 people were killed, including 33 in Homs.
The Observatory said another flashpoint central city, Hama, also came under assault in the early hours of Friday, with intense firing from heavy machineguns and loud explosions heard.
On the outskirts of Damascus, an 11-year-old boy was killed at a checkpoint in Hamuriyeh, the Observatory said in statements received in Nicosia.
The Syrian National Council, the biggest opposition umbrella group, condemned the offensives against opposition strongholds and said it was in contact with members of the Security Council to press for strong condemnation.
The latest wave in the government crackdown, now in its 11th month, comes as the West tries to ride diplomatic momentum sparked by last weekend's surprise call by the Arab League for President Bashar al-Assad to step down.
The Security Council was to discuss the Syria crisis later Friday when Western and Arab nations were to hold talks on a draft resolution denouncing the Assad regime that has been blocked by strong resistance from Damascus allies Beijing and Moscow.
The council's five permanent members -- Britain, China, France, Russia and the United States -- met Thursday.
UN chief Ban Ki-moon urged the Security Council to speak with one voice on Syria and diplomats hope for a vote early next week. "We have to seize this moment, we have to help these people. They have been oppressed for so long," he said.
But a senior Russian diplomat warned the draft still falls short because it refers to sanctions and warns of further measures, raising the spectre of military action.
Follow Emirates 24|7 on Google News.