Syrian forces kill 26 in bombardment east of capital -opposition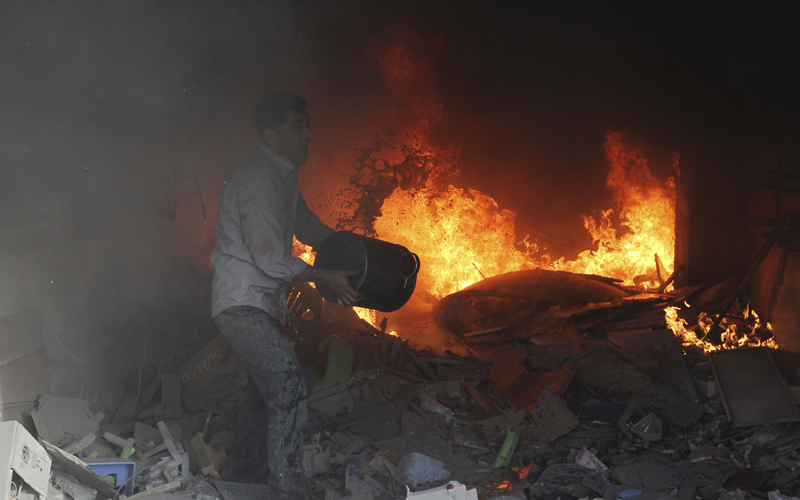 Syrian opposition activists said government forces killed at least 26 people, half of them children, in a bombardment of rebel-held areas on the outskirts of Damascus on Sunday.
The air, rocket and artillery campaign is the heaviest since rebels overran a helicopter base and missile base near Damascus two months ago and encroached on the main international airport, inching steadily closer to the capital, the sources said.
Video footage showed women weeping over the dismembered bodies of children strewn across a field in Eastern Ghouta, near an air defence base on the edge of the town of Muleiha, 5 km (3 miles) east of Damascus.
Muleiha is the last major fortification in the area east of Damascus not yet to have fallen to the rebels. President Bashar al-Assad's core troops and security personnel, mostly belonging to his minority Alawite sect, are entrenched in the capital.
"God is greater than you, Bashar," one of the activists is shown saying as a youth carries the torso of a child.
The footage was taken by activists and could not be independently verified.
Activist Yasmine al-Shami, speaking by phone from Damascus, said residential areas around Muleiha and in the working-class suburbs of Hazzeh, Kfar Batna and Douma were being heavily hit.
"The regime has gone mad with bombardment today. Footage that has been coming in is heartbreaking. Among the dead is a mother, Heba al-Lahham, and her three children, who were playing in a field in Hazzeh," she said.

BASE UNDER ATTACK
A report by the opposition Damascus Media Centre said rebels had been attacking the Muleiha base with rocket-propelled grenades and mortars for five days, and the army had fired over 600 rockets on the town in response.
"The base has a large numbers of tanks and armour and stockpiles of ammunition. There is information that the Free Syrian Army has destroyed five tanks and one armoured vehicle," the report said.
A member of the group said Assad's forces were bombarding civilian areas to try to weaken support for the rebels.
"This is the last base standing in the east between the rebels and Damascus. It is a huge compound and the regime is bombarding heavily to keep the rebels from mounting a concerted offensive to take it over," he said.
A commander in Liwa al-Islam, one of several rebel brigades fighting in the area, said the compound was well defended.
"Our objective is to take it, but it will not be immediate," he said.
The rebel accounts could not be independently confirmed and there were no state media reports of the fighting on Sunday.
Loyalist troops have been relying on air power and artillery and rockets stationed on Qasioun Mountain in Damascus and nearby bases to keep in check rebels who have taken over a series of Sunni Muslim suburbs ringing the city.
Rebels have been building up supply lines in Eastern Ghouta for months.
But opposition fighters lack the numbers and heavy weapons to storm Damascus, where mostly 70,000 Alawite troops are estimated to be based.
"Even if Muleiha falls, the rebels will think twice before advancing on central areas in Damascus," said an opposition campaigner in Damascus, after spending several days with the fighters in Eastern Ghouta.
"They have seen how Assad responded before, by destroying whole neighbourhoods with artillery."
Follow Emirates 24|7 on Google News.