Syrian regime troops capture rebel-held town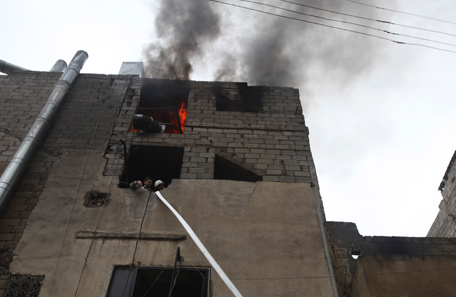 Syrian regime troops Saturday captured a rebel-held town near a famed Crusader castle in the strategic province of Homs, state media and a monitoring group said, after nearly a month of fighting.
The town of Zara, near the Krak des Chevaliers castle in Homs province, fell to government forces a day after it was hit by air strikes, the Britain-based Syrian Observatory for Human Rights said.
A source in the pro-regime National Defence Forces militia was quoted by state news agency SANA as saying the army had "seized full control of Zara after having wiped out the terrorists" -- the regime's term for rebel fighters.
The source added search operations were underway to make sure there were no gunmen hiding in the town or surrounding orchards.
The Observatory said the town, which is mostly inhabited by the Sunni Turkmen minority, was taken after "fierce fighting between loyalist troops and fighters from Jund al-Sham and other groups."
The monitoring group, which relies on activists on the ground for its reports, said there were casualties on both sides but did not give any figures.
"Heavy clashes can still be heard around the town," it added.
The strategic central province borders Lebanon and the region's capital, Homs city, is located on the highway to Damascus, a key supply route for the Syrian army.
The capture of Zara -- which lies west of Homs city -- comes as the army is battling rebels further south around Yabrud, an insurgent stronghold in the Qalamoun mountains close to the Lebanese border.
The fighting is part of an army offensive launched late last year also to secure the Damascus-Homs highway and to several a key rebel supply route to the town of Arsal in Lebanon's Bekaa Valley.
Follow Emirates 24|7 on Google News.