Third 'Israeli' falcon found in Saudi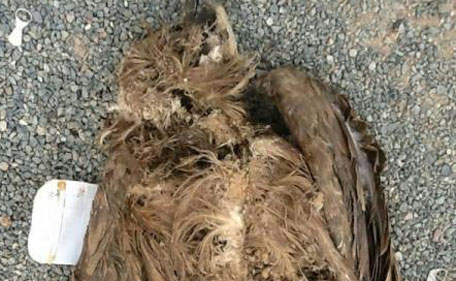 A Saudi man stumbled across a large dead falcon in his little village in the Gulf Kingdom with tags tied to its legs, including one carrying the word "Israel" in English, a newspaper reported on Sunday.

Saad al Rasheedi informed authorities, who took the bird for examination, saying it could have been dead for nearly a week.

Rasheedi said he found the bird on Saturday while walking back to his house in Safra village south of the northwestern town of Hail close to Jordan.

He said one tag read in English "Israel" while the other tags carried Hebrew words and the English symbols "COI", "HB" and "A97-76".

"The competent authorities took the bird for examination and studying of those tags attached to its legs and wings," the Arabic language daily Sabq said.

It was the third time in nearly two years that a falcon believed to be originating from Israel is found in Saudi Arabia.

In late 201, a large falcon with a plastic tag fitted to its wings rammed into a car travelling on a motorway in the Kingdom before it was captured.

A Saudi man was driving his car in the morning on the road linking Hail to the western town of Madina when he hit the bird, with a tag bearing the code "H09" stuck to its wing.

In December 2010, Saudi Arabia said one of its citizens captured an Israeli falcon in Hail fitted with GPS transmitter bearing the name Tel Aviv University.

The vulture, which can have a wing span of up to 265cm (8ft 8in), was caught by a Saudi man using a dead sheep as a bait after the bird landed near the town.

The device does nothing more than receive and store basic data about
the bird's whereabouts, and about his altitude and speed," a bird specialist at Israel's Park and Nature Authority said after the falcon was captured.

A Saudi royal family member had said the Israeli bird was apparently on a scientific mission. "I think you have to ask the wildlife officials about this but such birds are always seen in many countries as they are used to measure distances," said Prince Khaled bin Sultan bin Abdul Aziz, assistant defence minister.

Follow Emirates 24|7 on Google News.