Thousands demand Algerian leader quits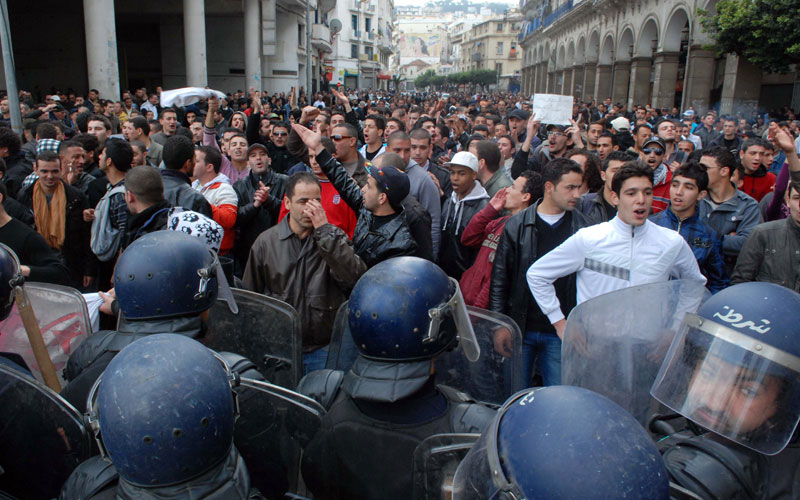 Up to 2,000 demonstrators evaded massed police on Saturday to rally in a central Algiers square, calling for President Abdelaziz Bouteflika to go following the overthrow of leaders in Egypt and Tunisia.
Ringed by hundreds of riot police, some of whom carried automatic weapons in addition to clubs and shields, they waved a large banner reading "Regime, out" and chanted slogans borrowed from the mass protests in Tunis and Cairo.
But police deployed in their tens of thousands prevented them making a planned four-kilometre march from May 1 Square to Martyrs Square.
The demonstrators included both the head of the opposition Rally for Culture and Democracy (RCD), Said Sadi, and his one-time enemy Ali Belhadj, the former leader of the now-banned Islamist Salvation Front.
A knot of police surrounded Sadi to prevent him using a loudhailer to address the crowd, while a number of arrests were made.
By the afternoon only some 150 mainly young protestors were left in a corner of the square still chanting defiantly.
But Fodil Boumala, one of the founders of the National Coordination for Change and Democracy (CNCD), which called the march, was jubilant.
"We've broken the wall of fear, this is only a beginning," he said. "The Algerians have won back their capital."
From early Saturday, nearly 30,000 police had been deployed in the capital along the proposed route of the march.
Anti-riot vehicles and water cannon were seen ready for action near the starting point.
And even before the march had been due to begin at 11:00 am (1000 GMT), there had been scuffles between the security forces and protesters, with numerous arrests, witnesses said.
The interior ministry said 14 people had been held and then released.
But the head of the Algerian League for the Defence of Human Rights (LADDH), Mustapha Bouchachi, said there had been 300 arrests in Algiers, the western city of Oran and the eastern city of Annaba.
"Some were freed but others are still being held," said Bouchachi.
Those detained at least briefly included two RCD deputies, Othmane Maazouz and Feta Sadad, as well as Boumala of the CNCD.
Sadi also protested that 90-year-old veteran human rights campaigner Ali Yahia Abdelnour had been manhandled by police.
In Algiers, a group of around 40 young counter-demonstrators made a brief appearance in support of the president.
"Bouteflika isn't Mubarak," they shouted, referring to the Egyptian strongman who on Friday was forced to step down.
Police had already violently dispersed a gathering on Friday of people celebrating Egyptian president Hosni Mubarak's downfall and made 10 arrests, he added.
"It wasn't even an organised demonstration. It was spontaneous. It was an explosion of joy," he said. In the main western city of Oran, between 400 and 500 protestors also rallied Saturday for a demonstration which the opposition said had been banned by the authorities, though the interior ministry denied it.
The authorities arrested around 30 people, witnesses said.
They included Kadour Chouicha, an academic and local leader of the CNCD and his son and two journalists. They were released shortly afterwards, as were two mime artists with their faces whitened and with black crosses on their lips.
The CNCD, an umbrella group of opposition parties, civil society movements and unofficial unions including the RCD and the LADDH, was set up only three weeks ago, emboldened by the mass protests in Tunisia and Egypt.
The CNCD is demanding the immediate end of Bouteflika's regime, citing the same problems of high unemployment, housing and soaring costs that inspired uprisings in Tunisia and Egypt.
Mounting grievances triggered riots in early January that left five dead and more than 800 injured. A protest called by the CNCD in Algiers on January 22 left many injured as police blocked a march on parliament.
Like their north African counterparts, the protesters have used Facebook and text messages to spread their call for change.
Marches have been banned in Algiers, officially for public order reasons, since 2001, when eight people died in a rally and hundreds were wounded.
Bouteflika, in power since 1999, has acted to curb price rises and promised political concessions, including pledging to lift a two-decade state of emergency, which the opposition says do not go far enough.
The 74-year-old leader was first elected in 1999, re-elected in 2004 and again in 2009 after revising the constitution to allow for an indefinite number of terms.
Follow Emirates 24|7 on Google News.