Turkey to launch new Syria initiative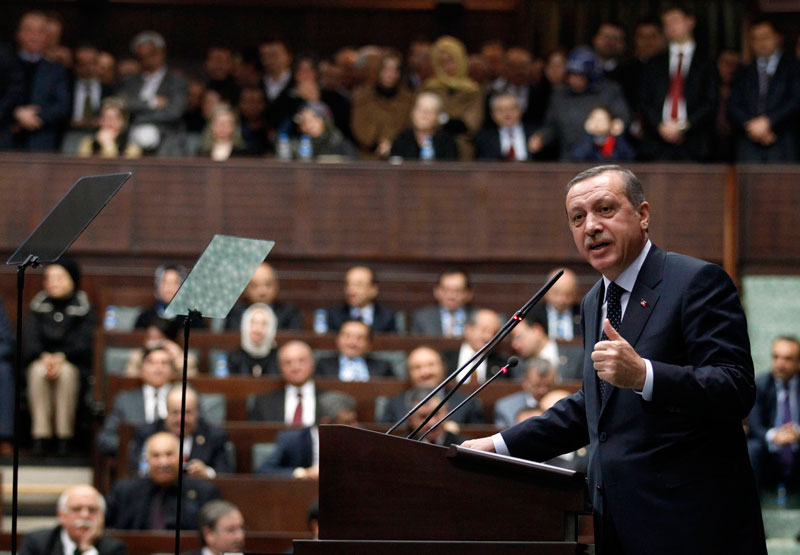 Turkey's prime minister announced Tuesday a new initiative with regional players to halt the violence in Syria, saying the veto of a UN resolution had given President Bashar Al Assad a "licence to kill".
Speaking in the Turkish parliament, Recep Tayyip Erdogan denounced Russia and China's torpedoing at the weekend of a resolution backed by the West and the Arab League as a "fiasco" and said Assad had reached the end of the line.
"We will start a new initiative with those countries who stand by the Syrian people, not the regime," he said.
"We are working on this initiative, Erdogan told lawmakers, adding that his government would use all diplomatic means to draw the world's attention to the Syrian crisis.
"We cannot remain silent on what is happening in Syria and we cannot turn our backs on the Syrian people," Erdogan said.
Erdogan, once a close friend and ally of Assad, said that the outcome had placed a "licence to kill in the hands of the tyrant".
"The process that unfolded at the United Nations is a fiasco for the civilised world," said Erdogan.
The veto power should be used responsibly without "giving the green light to death", the prime minister added.
Erdogan said that countries who used Syria as a pawn in a larger power struggle would find themselves "spattered in blood".
Turkey, which has a a 910-km with northern Syria, has been at the forefront of international criticism against Damascus since an uprising began last March and has become a haven for opposition activists.
Foreign Minister Ahmet Davutoglu is due to fly to the United States on Wednesday and meet US Secretary of State Hillary Clinton for further discussions on Syria, diplomatic sources said.
Follow Emirates 24|7 on Google News.