UAE President, Iraqi PM discuss bilateral cooperation, latest regional and global developments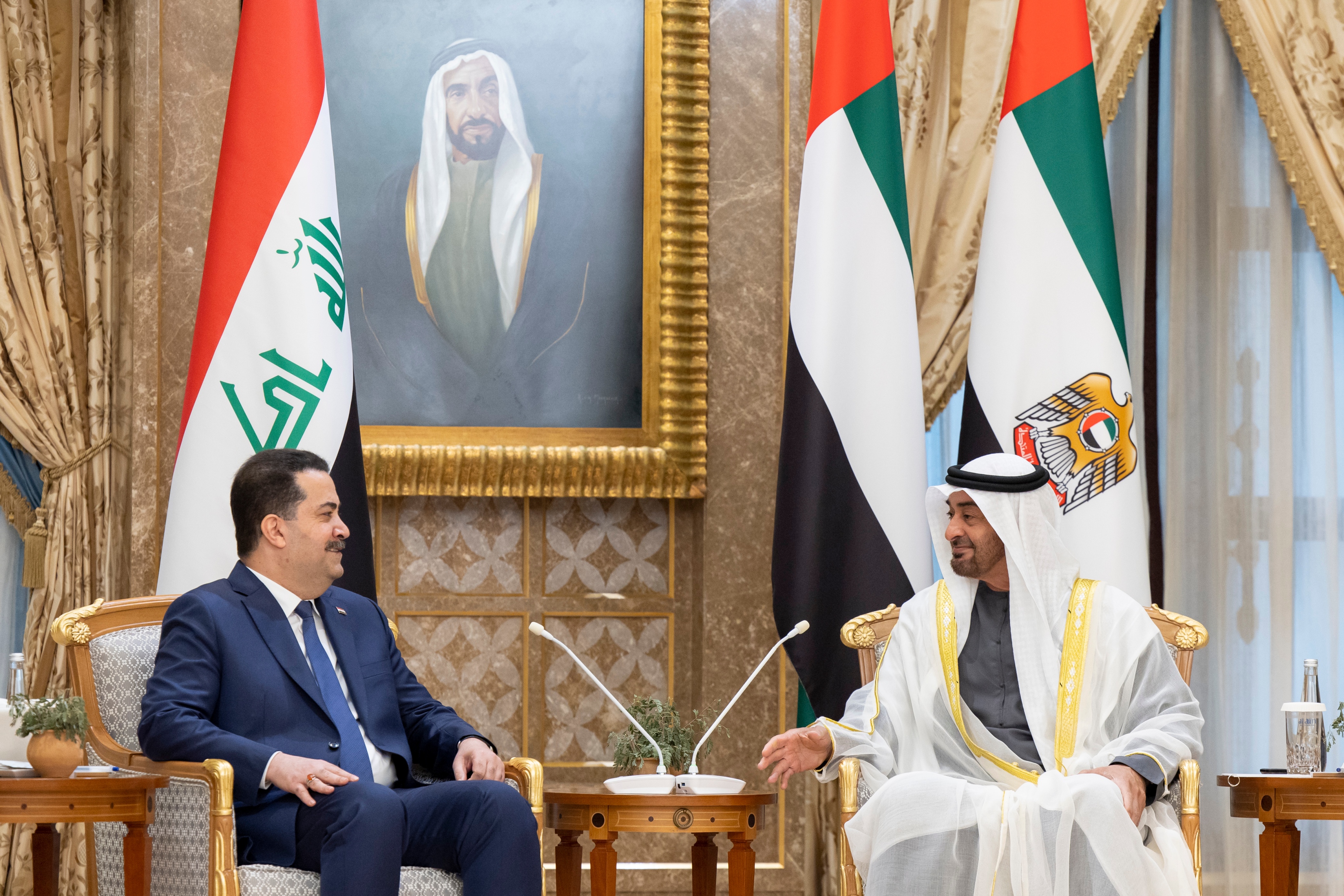 President His Highness Sheikh Mohamed bin Zayed Al Nahyan discussed on Thursday with Mohammed Shiaa' Al Sudani, Prime Minister of the brotherly Republic of Iraq, ways of enhancing bilateral relations and prospects for joint cooperation and action for the interest of the two countries.
Highness Sheikh Mohamed bin Zayed welcomed the Iraqi prime minister at Qasr Al Watan and reviewed with him avenues of joint cooperation across economic, trade, investment and developmental sectors as well as opportunities to further develop them to deliver the two countries' priorities for realising development, progress and prosperity for the two peoples.
The two sides also took stock of the latest regional and global issues of mutual interest and exchanges views on them, affirming their identical visions towards many these issues, especially efforts aimed at finding peaceful settlements to regional disputes and crises and pushing diplomatic efforts to fulfil aspirations of the peoples in the region for stability and prosperity.
At the beginning of the meeting, President His Highness Sheikh Mohamed bin Zayed extended his greetings to Mohammed Shiaa' Al Sudani, Prime Minister of Iraq, on the occasion of Iraq's hosting of the 25th Arabian Gulf Cup (Khaleeji Zain 25) in Basra, highlighting his happiness at the compassion and friendly sentiments between the Iraqi people and the rest of the region, and noting that he is happier about Iraq's security and stability.
The bilateral ties between the UAE and Iraq are deep-rooted, he added, noting that Iraq is a special country for the Emirati people, and the UAE supports whatever must be done to realise the interests of the Iraqi people and achieve Iraq's unity, sovereignty and prosperity. He then wished Al Sudani success in leading Iraq to overall development.
Al Sudani thanked President His Highness Sheikh Mohamed for the warm welcome and hospitality he received, lauding the UAE's historic stance to support Iraq.
"We are happy to be among our peoples, and we shall strengthen the historic ties between our countries," he said, highlighting Iraq's keenness to continue strengthening its cooperation with the UAE.
"Today, Iraq welcomes its partners, most notably the UAE," he added, noting the mutual history and destiny of the two countries, as well as the many opportunities that could benefit them and their peoples.
Al Sudani then pointed out that his country has experienced many hardships, but it has managed to overcome them, stressing that Iraq is part of the current solution in the region and will regain its leading role, due to the support of the UAE and other fraternal countries.
Among those who attended the meeting were H.H. Sheikh Hazza bin Zayed Al Nahyan, Deputy Chairman of Abu Dhabi Executive Council; H.H. Lt. General Sheikh Saif bin Zayed Al Nahyan, Deputy Prime Minister and Minister of the Interior; H.H. Sheikh Mansour bin Zayed Al Nahyan, Deputy Prime Minister and Minister of the Presidential Court; H.H. Sheikh Abdullah bin Zayed Al Nahyan, Minister of Foreign Affairs and International Cooperation; H.H. Sheikh Hamdan bin Mohamed bin Zayed Al Nahyan; Sheikh Mohammed bin Hamad bin Tahnoun Al Nahyan, Advisor for Special Affairs at the Ministry of Presidential Court; Ali Mohammed Hammad Al Shamsi, Secretary-General of the Supreme National Security Council; Dr. Anwar Gargash, Diplomatic Adviser to the UAE President; Abdullah bin Sultan bin Awad Al Nuaimi, Minister of Justice; Khalifa Shaheen Al Marar, Minister of State; Mohamed Ali Al Shorafa, Chairman of the Department of Municipalities and Transport, and a number of officials.
Dr. Muhammad Ali Tamim, Deputy Prime Minister and Minister of Planning; Ziyad Ali Fadel, Minister of Electricity; Razzaq Muhibis Al-Saadawi, Minister of Transport; Bankin Abdullah Rikani, Minister of Construction, Housing, Municipalities and Public Works; and Mudaffar Mustafa Al-Jubouri, Ambassador of Iraq, a number of Iraqi officials, attended from the Iraqi side.
Follow Emirates 24|7 on Google News.