UK urges tougher Syria sanctions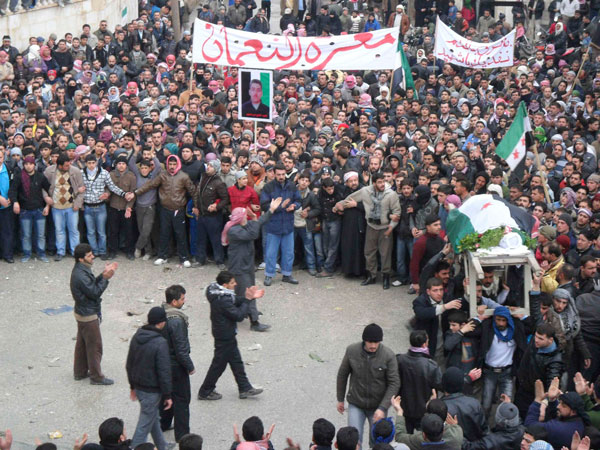 Britain called on Wednesday for harsher sanctions on Syria, where an Arab monitoring mission has failed to halt bloodshed in a 10-month-old revolt against President Bashar al-Assad.
But Russia underlined divisions at the United Nations, saying it would work with China to prevent the Security Council from approving any military intervention in Syria.
Damascus may let the monitors stay on after their mandate expires on Thursday, but Assad's foes say the Arab League peace effort has failed and the U.N. Security Council should step in.

Arab foreign ministers, due to consider their next step at the weekend, are split over how to handle Syria, as is the U.N. Security Council, which has failed to adopt any position.

British Prime Minister David Cameron accused Iran and Lebanon's Shi'ite Hezbollah movement of helping to prop up Assad, whom he described as "a wretched tyrant".
"Britain needs to lead the way in making sure we tighten the sanctions, the travel bans, the asset freezes, on Syria," Cameron told parliament in London.
European Union governments are expected on Monday to expand the list of people and Syrian companies and institutions targeted by EU sanctions, diplomats said in Brussels.

An EU diplomat said 22 extra people would be affected by asset freezes and travel bans. EU companies would also be prohibited from doing business with about eight additional companies or institutions. Current EU sanctions target 30 entities and 86 Syrians.
RUSSIAN WARNING
But Russian Foreign Minister Sergei Lavrov warned the West against contemplating any kind of foreign intervention to end Assad's 10-month crackdown, which the United Nations says has killed more than 5,000 civilians.
"We will insist - and we have an understanding with our Chinese colleagues that this is our common position - that these fundamental points be retained in any decision that may be taken by the U.N. Security Council," he told a news conference.
"If somebody intends to use force ... it will be on their conscience. They will not receive any authority from the Security Council," said Lavrov, who also emphasised that Moscow and Beijing oppose any sanctions against Syria.
Russia joined China in October to veto a Western-backed resolution against Assad's government, saying the domestic opposition shared blame for the violence and that it would have opened the door for military action like NATO's Libya operation.
Moscow submitted its own draft resolution last month and proposed a new version this week.
Syria is a leading buyer of Russian arms, and a Russian-operated ship carrying what a Cypriot official said was bullets arrived in Syria last week from St. Petersburg after being held up in Cyprus.
Washington said it had raised concerns about the ship with Russia, but Lavrov refused to give any explanation. "We don't consider it necessary to explain ourselves or justify ourselves, because we are not violating any international agreements or any Security Council resolutions," he said in Moscow.
Follow Emirates 24|7 on Google News.