UN says Syria has 'stepped up killings'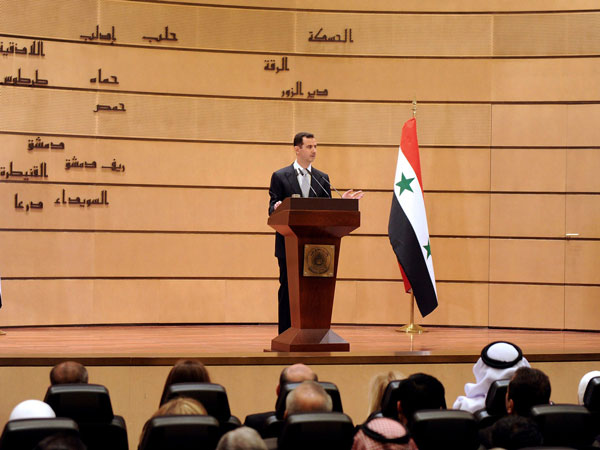 Syrian President Bashar al-Assad derided the efforts of Arab League monitors to halt violence against anti-government activists, and a senior U.N. official said Syria had stepped up its killing of protesters after the monitors arrived.
The president said in a speech on Tuesday, his first public address since June, that he was determined to strike the "terrorists" he blames for the 10-month revolt, inspired by other "Arab Spring" uprisings last year.
He made some promises of reform, but no sweeping concessions that might placate an opposition now determined to end more than four decades of domination by the Assad family.
The United Nations has said more than 5,000 civilians have been killed in the largely peaceful protests against Assad, while he says Islamist militants have killed 2,000 members of his security forces.

A senior U.N. official told the Security Council on Tuesday that Syria had accelerated its killing of pro-democracy demonstrators after Arab League monitors arrived to check on implementation of an Arab peace plan, U.S. Ambassador to the United Nations Susan Rice said.
"The under-secretary-general noted that in the days since the Arab League monitoring mission has been on the ground, an estimated 400 additional people have been killed, an average of 40 a day, a rate much higher than was the case before their deployment," Rice told reporters.
Rice was speaking after Lynn Pascoe, U.N. under-secretary-general for political affairs, briefed the 15-nation Security Council behind closed doors on Syria and other major crises. She said the figure did not include more than two dozen people killed in a suicide bombing in Damascus last week.
"That is a clear indication that the government of Syria, rather than using the opportunity ... to end the violence and fulfill all of its commitments (to the Arab League), is instead stepping up the violence," she said.
Assad made scathing remarks about the Arab League, which suspended Syria in November and whose monitors are trying to check Syria's compliance with an Arab peace plan.
"The Arab League has failed for six decades to take a position in the Arab interest," he said.
The League condemned an attack on Monday in which 11 of its monitors were hurt by demonstrators in the port city of Latakia, saying Syria had breached its obligation to protect them.
Syria said it was continuing to provide security for the observers and condemned any act that obstructs their work.
NEW CONSTITUTION, ELECTIONS
In his speech Assad, 46, offered a referendum on a new constitution in March and a multi-party parliamentary election that has been much postponed. The present charter designates Assad's Baath party as "the leader of the state and society".
He gave no sign that he was willing to relinquish the power he inherited on his father's death in 2000. "I am not someone who abandons responsibility," he declared.
In Washington, State Department spokeswoman Victoria Nuland said Assad's speech showed the Syrian government was trying to deflect attention from the crackdown and evade responsibility for the violence.

"He's doing everything but what he needs to do," Nuland said. "It confirms us in our view that it's time for him to step aside."
In the latest bloodshed, Syrian forces shot dead 10 people, most of them anti-Assad protesters, in the eastern city of Deir al-Zor, the opposition Syrian Observatory for Human Rights said.
Authorities have barred most independent media from Syria, making it hard to verify accounts by activists or officials.
Until two big bomb blasts in Damascus in recent weeks, the Syrian capital had remained relatively peaceful.
But residents now speak of a wave of fear spreading through the city, emptying its normally bustling streets and crowded cafes and leaving a ghost town at night as residents hurry home, worried that more violence may erupt.
"People have stopped buying. Days can pass without even one client," said the owner of a clothes shop in Hamra Street, in the heart of the capital. "After the explosions we are closing down early, we do not know when this street will be targeted."
By nightfall city centre streets are deserted and taxis disappear. Famous cafes like Havana and al-Rawda, where customers used to queue for a seat, are empty. Employees leave work early, parents worry about sending the children to school.
Assad complained that Syria was the target of a relentless foreign media campaign. Blaming unrest on "outside planning", he said: "The outside now regrettably includes Arabs."
His stance on the unrest, casting it as a foreign conspiracy and countering it with violent repression and hazy promises of reform, resembled that of other Arab leaders confronted by mass protests in the past year. Three autocrats have been toppled.
Follow Emirates 24|7 on Google News.