UN split on Syria action even as killings spike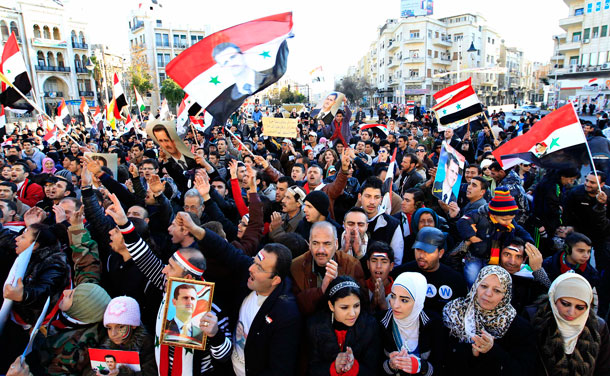 A new Arab and European bid to secure UN action over Syria's crackdown on dissent hit immediate Russian opposition even as the death toll spiked, with activists reporting 120 people killed in two days.
The Gulf Arab states and Turkey, which have spearheaded regional condemnation of the Damascus regime, were to meet in Istanbul on Saturday for talks expected to be dominated by the quest for a tough UN Security Council resolution.
But Syria's Cold War ally Russia made clear that the Arab and European draft formally submitted by Morocco late on Friday crossed "our red lines," raising the prospect of lengthy wrangling over the wording of the text, which its supporters want put to the vote in the next week.
The head of an Arab League monitoring mission said unrest had soared this week "in a significant way," especially in the flashpoint central cities of Homs and Hama and in the northern Idlib region.
The violence, which on Friday for the first time also cost lives in Aleppo, Syria's second-largest city, "does not help... to get all sides to sit at the negotiating table," General Mohammed Ahmed Mustafa al-Dabi said.
But despite the mounting death toll, which the United Nations said last month already topped 5,400, the Security Council has not adopted a single resolution on the crisis since the protests first erupted in March last year.
A previous European draft that would have threatened "targeted measures" against President Bashar al-Assad's regime was vetoed by Beijing and Moscow in October.
Backers of the new resolution hope that critics -- who also include India and South Africa -- will be swayed by the tough new stance of the Arab League, which last weekend demanded that Assad hand his powers to his deputy to pave the way for a national unity government ahead of elections.
The same model has been adopted in the Arab world's poorest country, Yemen, in a bid to stem even longer-running unrest there.
The new text "fully supports" the Arab League plan and "encourages" all states to follow sanctions adopted by pan-Arab bloc last November, but contains no mandatory action.
Russia's UN ambassador Vitaly Churkin said the wording crossed "our red lines, where we cannot go." He said Moscow opposed any hint of sanctions, an arms embargo or "regime change" and was critical of the Arab League, accusing it of seeking to "impose" a solution on Assad.
"The Arab League may have its ideas where political dialogue should go. Certainly they are free to express those ideas but the Security Council should not be a tool to impose specific solutions on countries, including, in this particular case, Syria," he said.
The council has been split on Syria since last year's resolution on Libya which critics say Nato abused to launch military action in support of the uprising that overthrew Muammer Gaddafi.
South Africa's UN ambassador Baso Sangqu said the new Syria draft also hinted at a drive for regime change.
"Obviously if there is anything that could explicitly have regime change in it then it will cause problems for some of us," Sangqu told reporters.
Britain's UN envoy Mark Lyall Grant dismissed any suggestion that there were sanctions or an arms embargo in the text.
"You shouldn't be fooled by those who are claiming there are all sorts of other things in the text, trying to refight battles over Libya," he told reporters.
"We want, as do the Arabs, a unanimous resolution," said Lyall Grant. "Frankly the time has come when we should be supporting the Arab League."
The Syrian Observatory of Human Rights said security forces killed at least 44 civilians on Friday, while 12 soldiers were killed in attacks on the military.
The bloodshed followed the deaths of 62 people on Thursday, the Britain-based watchdog told AFP in Nicosia.
A pipeline was ablaze in Quriah in the oil province of Deir Ezzor early on Saturday after it was hit by heavy machinegun fire, the Observatory said.
A child was also killed in the city when his home was hit in shelling.
At least 384 children have been among the dead in the uprising against Assad's regime, and almost the same number detained, the UN Children's Fund said on Friday.
Follow Emirates 24|7 on Google News.