US vows to dry up funding to Syria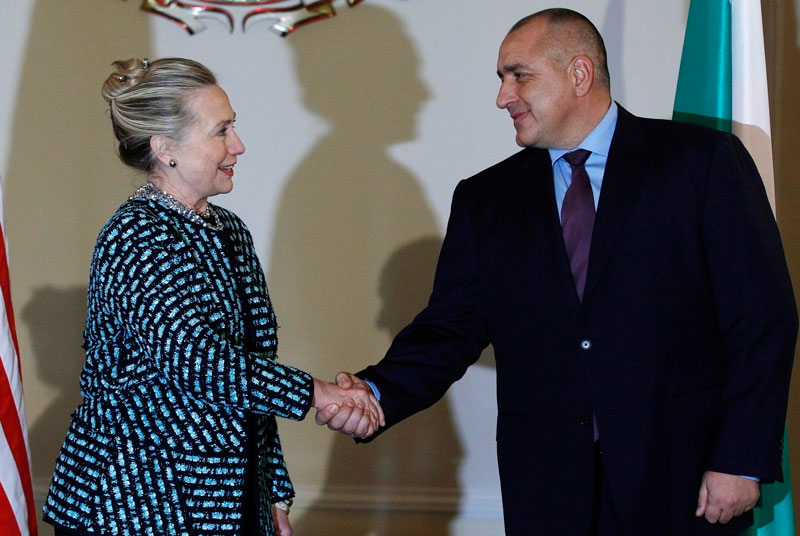 US Secretary of State Hillary Clinton vowed on Sunday to strengthen existing sanctions against the Syrian regime and seek further ones to dry up funding and arms shipments.
"We will work to seek regional and national sanctions against Syria and strengthen the ones we have. They will be implemented to the fullest to dry up the sources of funding and the arms shipments that are keeping the regime's war machine going", Clinton told journalists in Sofia on Sunday.
"We will work to expose those who are still funding the regime and sending it weapons that are used against defenceless Syrians including women and children," the US top diplomat added.
Clinton said on Sunday the veto by Russia and China of a UN resolution that would have urged the Syrian president to give up power was a "travesty". She said: "What happened yesterday at the United Nations was a travesty."
Rival demonstrations in Beirut
Meanwhile, hundreds of Syrian dissidents and Lebanese activists protested on Sunday outside the Russian embassy in Beirut, as a rival pro-regime rally was staged nearby in the Lebanese capital.
The demonstrators chanted slogans against Syria's government, Russia and China, some of them carrying blood-splattered portraits of Syria's President Bashar Al Assad and Russian Prime Minister Vladimir Putin.
Not far away, hundreds of protesters rallied in support of the embattled Syrian regime, bearing pictures of Assad and his ally Hezbollah leader Hassan Nasrallah, as well as banners praising Russia and China.
The two groups were kept apart by security forces.
Pro-government TV's news service hacked
Syria's state broadcaster said on Sunday that the text message news service of a separate, pro-government TV station had been hacked and was being used to disseminate "false messages".
A headline displayed on state Syria tv said: "The administration of Addounia draws the attention of its subscribers to the fact that it has temporarily halted its SMS service, and calls citizens to be wary of the false messages being sent now."

Separate headlines on Addounia cautioned against a text message asking people "to avoid public squares for security reasons", and advised that its subscribers ignore all SMS messages on its service until further notice.

The station was the target of European Union sanctions imposed on Syria in September. The station uses the SMS service to send messages to viewers who have signed up.
Arab League mediation

Meanwhile, the Arab League will continue working to end political violence in Syria to stave off foreign military intervention, league chief Nabil Al Arabi said on Sunday. Arabi said the 22-member organisation would continue working with the Syrian regime and opposition for a "political solution" to Damascus's deadly crackdown on pro-democracy protests.

Arab nations had proposed the resolution which Russia and China vetoed at the UN Security Council on Saturday. Vetoing the resolution "does not negate that there is clear international support for the Arab League's decisions," Arabi said in a statement.

The league "will continue its efforts with the Syrian government and opposition, in coordination with concerned parties, to achieve its uppermost goal to stop all acts of violence and killing, and to protect civilians."

The bloc will work to "find a political solution that will achieve reforms and the process of change demanded by the Syrian people, which would preserve it from... any foreign military intervention," he said.
Follow Emirates 24|7 on Google News.