Video: World's heaviest teen walks for first time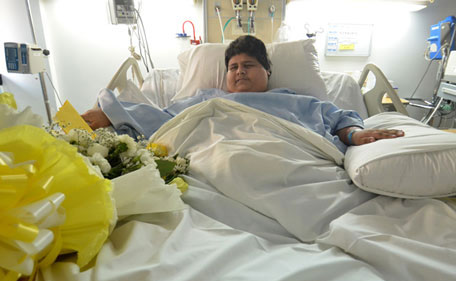 A Saudi boy who was rated as the world's heaviest teenager at 810kg has started to walk for the first time in his teen life, after losing hundreds of kgs at a hospital treatment programme, a newspaper reported on Sunday.
The Arabic language daily 'Ajel' published a video showing Khaled Mohsen Al Shaeri, 17, walking with the help of support at his home in the Southern Jazan province.
Doctors who treated him the capital Riyadh said Shaeri had shed more than two thirds of his weight and that he is still on a health programme to lose more.
Shaeri was nearly 810kg when he was airlifted King Fahd Medical City in Riyadh for treatment, in line with instructions by the late King Abdullah in 2013.
Nearly 30 medical staff members and civil defence men joined hands to lift the boy with a special crane ordered from the US and flew him to the capital in a helicopter.
Follow Emirates 24|7 on Google News.