Winter storm devastates Syria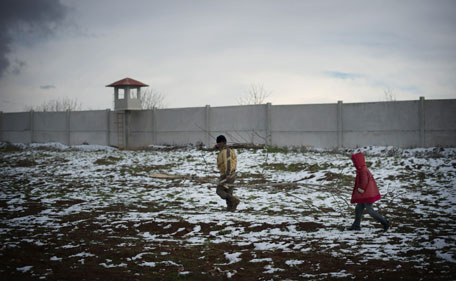 Sayyad Ali fled Syria two weeks ago and now lives with his wife and two children in a leaky tent of wood and plastic sheeting surrounded by ankle-deep mud in a lot in northern Lebanon.

The 27-year-old former construction worker built the shelter well, but the thin walls are scant shield against wind, rain and hail that have lashed the makeshift camp during four days of winter storms, among the fiercest to hit the region in decades.

"It's like we've returned to ancient times," Ali said as rain pelted his tent's roof. "We're living without electricity, without water, without anything."

Nearly 190,000 Syrians have fled to Lebanon since the uprising against President Bashar Al Assad began nearly two years ago, but the divided government has so far resisted setting up formal camps like in Jordan and Turkey.

That has left many Syrians to shelter with friends or relatives or, failing that, to live in improvised camps like this one in Qobbat Beshomra, where a few dozen tents are wedged into a trash-strewn lot alongside a coastal highway.

Storms across the Levant have made the situation suddenly much worse. Wind whips in off the rocky Mediterranean coast across the road, chilling the rain.

"We've never experienced hardship like this before," Ali said. "Last night we couldn't sleep, it was so cold and windy."

People in the camp say they are running low on food, medicine, money, heating oil and other essential goods after weeks or, in some cases, months living in their tents.

Their shelters - made of whatever they could scrounge in the area, including plastic banners and coffee sacks - are furnished mostly with mattresses, blankets and woven mats.

Dwindling pantries are stocked sporadically with a handful of items like tea, onions, garlic and olives.

"What can we cook? We have nothing," Feryal, a 30-year-old woman who fled the northern Syrian city of Idlib said, a black headscarf wrapped around her face.

"We came here to find safety, and look at us."

Syria's uprising started with peaceful demonstrations in March, 2011, but turned violent after a crackdown and has since become the bloodiest of the revolts to sweep the Arab world.

More than 60,000 people have died in the conflict so far, and nearly 600,000 have been registered as refugees.

On Tuesday, the United Nations said about 1 million Syrians were going hungry because it was hard to get supplies into conflict zones and the few government-approved aid agencies were stretched to the limit.

Lebanon on Edge

Syria's war, which pits mainly Sunni Muslim rebels against Assad, a member of the Alawite minority sect, has worsened the sectarian polarization in Lebanon, where a 15-year civil war ended in 1990 but peace is fragile.

Tiny and diverse Lebanon has long lived in the shadow of its larger neighbor Syria, which picked sides in Lebanon's disputes and garrisoned thousands of troops there until 2005.

Lebanon has officially tried to "dissociate" itself from Syria's war, but sectarian factions that support and oppose Assad have occasionally fought in Beirut, and other cities.

Some of the deadliest clashes have happened just about 10 km (6 miles) down the road from Qobbat Beshomra, in Lebanon's second city Tripoli, where bullet holes speckle buildings and posters of Assad cover walls in some neighborhoods.

Taking in Syrian refugees, most of whom are Sunnis, is controversial in a country where the presence of 400,000 mainly Sunni Palestinian refugees was a major factor in the civil war, and any change to the sectarian balance rattles nerves. Some Christian officials have called for the border to be shut.

Aid groups have nevertheless pressured the government to do more to help Syrian refugees, whose numbers now equal nearly 5 percent of Lebanon's roughly 4 million people.

Last week, Lebanon asked foreign donors for $180 million to help care for the displaced and said it would register and recognize refugees after a year-long hiatus. It did not say if camps would be constructed.

The winter storms this past week have made the question more urgent. Over the mountains from the coast, in Lebanon's Bekaa valley, snow coats refugee tents near the city of Maraj and torrential rain has flooded camps east of the town of Zahle.

In Jordan, heavy rains in the Zaatari camp - haven for nearly 30,000 Syrians - forced refugees to take shelter in a school building and trailers.

"It's very tough there in Zaatari and there have been a number of tents that have been affected by the weather conditions," said Andrew Harper, UNHCR's representative in Jordan. "The fact that we were able to get heaters and blankets ahead of this has helped a lot but I fully understand how miserable the refugees must be," he said.

Turkey also has more than 150,000 Syrian refugees in camps and about half as many living with relatives or on their own. Weather there is also harsh in winter, but the Turkish Red Crescent has done more than in other places to protect refugees, including providing meals and electric heaters in camps.

In the camp on the Lebanese coast, Syrians said they still had to depend on themselves. Hassan, 32, said Lebanon's government or aid agencies had not yet offered any help.

"They just recorded our names and left," he said, drawing his hood over his face to shield against the rain.
Follow Emirates 24|7 on Google News.