Yemen President appreciates UAE's role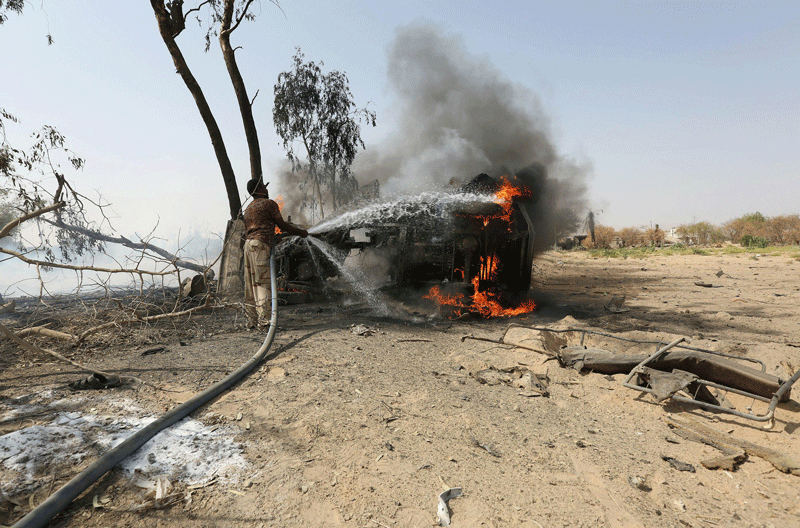 Yemen President Abd-Rabu Mansur Hadi has expressed his appreciation for the positive role of the UAE's leadership, government and people, and their honourable attitudes and heroic stances alongside his country through various stages and circumstances experienced by Yemen, providing support and assistance in the establishment of foundations of security and stability and the provision of relief, humanitarian aid and services development support.

This came when he received yesterday, at his residence in Riyadh, Salem bin Khalifa Al Ghafli, the UAE Ambassador to Yemen. The Yemeni President welcomed Al Ghafli, praising the depth and durability of bilateral relations between the two sisterly countries and the development and progress in all political, economic and social fields, as well as joint cooperation.

The Yemeni President said that the unity of stances strengthens the ties of brotherhood and common destiny, which combines the two countries as part of the joint national security of Yemen and the Gulf states led by Saudi Arabia and the UAE, as well as the Coalition States.

Al Ghafli conveyed the greetings of the UAE leadership to the Yemeni President, hailing the continuing successes achieved by the Pro-Legitimacy National Army Forces and the Popular Resistance on different fronts.

Meanwhile, Yemen President Abd-Rabu Mansour Hadi has dismissed Ghalib Abdullah Massad Mutlaq, the Minister of State for the Implementation of National Dialogue Outcomes, and Hassan Mohammed Zeid, Minister of State, Member of the Cabinet, from their posts.

According to the Yemen Now website, Abd-Rabu Mansour Hadi issued a Presidential Decree yesterday in which he assigned Essam Habrish to the position of Deputy Governor of Hadhramaut Wadi and Sahraa Affairs, and Hisham Mohammed Said Al-Saidi, Abd el-Hadi Abdallah Al Tamimi and Salem bin Sharman as Assistant Deputy Governors.























Follow Emirates 24|7 on Google News.