'Zero student' Mariam's woes continue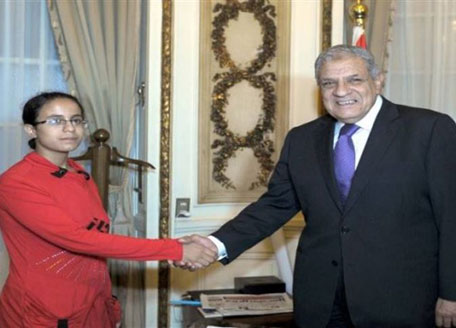 Mariam Malak – the top student who scored a sum total of zero in her secondary school final exams in Egypt – who has become the mainstay of TV channels and taken social media by storm was in for yet another shock when forensic reports were announced.

She was speechless on TV programme 'Al Bait Baitak', when it was announced that even the second round of forensic reports reveal that her handwriting matched those of her previous exams.

When she heard of the first forensic report, she fainted and had to be hospitalised briefly, according to media reports.

Mariam Malak's woes began when results of the final exam of general secondary school certificate (GSSC) were announced last week and she scored 'zero' in all her papers. She was one of Egypt's top-performing students, scoring 97 per cent in the previous two years. She aimed to get into medical school.

Her family suspects foul play and alleges that her papers may have been swapped with another pupil who was not doing well. She has been subjected to at least five handwriting tests and forensic examinations and the Education Minister has claimed there was no fraud involved.

Now Egyptian Prime Minister Ibrahim Mahlab has met with Mariam and assured her that she will be served justice.

Earlier, there was also another speculation that Mariam may have suffered this fate because she belongs to a minority Christian group. However, her family firmly believes she is a victim of corruption.

Dr. Hicham Abdul Hamid, spokesman of Egyptian forensic medicine, said told on the programme 'Al Hayat Al Youm' that Mariam was subjected to tests twice. And that the Tripartite Commission confirmed the handwriting was identical to the writing in the answers papers. The family refused to accept the results and alleged that influential people were involved and are hiding things.

Mariam's elder brother, Dr. Meena Malak, criticized the department in a telephone interview with Al Nahar TV and said that he has requested to meet with President Abdul Fatah Al Sisi to complain about the corruption in the Education ministry and forensic medicine department.

Meanwhile, Dr Moheb Al Rafa'ai, Minister of Education, said that the Directorate-General of Legal Affairs of the Ministry handled Mariam's complaint [case No. 1935 of 2015] and stated in their report that the answer papers belonged to her and that there was no fraud.

Mariam, however, refused to accept the report and moved the Prosecution, the minister said and added that the student's answer sheets were then sent to forensic department, which in turn also revealed that the handwriting was that of Mariam's.

But Mariam's lawyer filed a complaint to which Ali Imran, Acting Egyptian Attorney-General, asked the prosecution to recheck the answer sheets again.

Meanwhile, the Egyptian Prime Minister Ibrahim Mahlab met with Mariam and assured her that she will be served justice. She told CBC TV, "I felt reassured and joy by meeting the prime minister. He received me with affection".

The Prime Minister said that another student has also complained and that both the students will be supported ad served justice.

The prosecution has now asked the Department of Forensic Medicine in Cairo to test the handwritings of both students Mariam and Radhwa Ahmed Muhammad Ali and submit a report soon.

The Justice Minister has also promised both the students of thorough probe and support.

Meanwhile, Mariam and her family have been receiving tremendous support from people. They claimed that Mariam has received offers from outside to study abroad.

Well-known artist Mohamed Sobhi, announced he is ready to bear Mariam's educational cost to study abroad.

Similarly, the Bishop of Egyptian Orthodox Church, Melbourne, also expressed his wish to host Mariam and help her complete her education.

Social media users have been rallying behind her and hastag '#IbelieveMariamMalak' has been trending.
Follow Emirates 24|7 on Google News.