Rich Indians buy Armani residences in world's tallest towers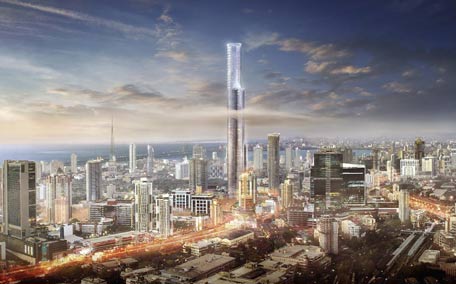 Wealthy Indians from the UAE have bought Armani-designed residences in Mumbai's World One, billed to be the world's tallest residential tower on completion in 2016, where apartment prices start from Dh7.9 million.
Interiors of Armani Residences in Mumbai
In an emailed statement to Emirates 24|7, Lodha Group, the developer of the tower, said: "We are very pleased with the response received from high net worth customers, not just NRI's in UAE and GCC, but from our presence in markets internationally and in India."
The number of non-resident Indians (NRIs) buying swanky residences from the UAE and other Gulf Cooperation Council was not disclosed.
The developer claimed in the statement that it had achieved sales of Rs5 billion within nine days of re-opening bookings, with prices of the World Residences ranging from Dh4,100 (Rs70,000) to Dh4,700 psf (Rs80,000).
View of World One apartments
"World One is an architectural marvel, it will be the world's tallest residential tower and it will place Mumbai among the rank of extraordinary global cities with iconic landmarks," Abhinandan Lodha, Deputy Managing Director, Lodha Group, said.
In Dubai, Armani-designed residences in Burj Khalifa, the world's tallest building which was opened in January 2010, are currently selling for an average price of Dh6,000 per square feet.
Interiors of Armani Residences in Dubai
"The prices had declined to as low as Dh3,500 in 2009/2010, but the market rebounded in the past two years. The average price is Dh6,000 per square feet," said a Director of Dubai-based real estate consultancy.
The Armani/Casa mansion in Mumbai's World One will offer a 360-degree views of the city, will be spread over two floors each and will be five degrees cooler in temperature.
The 117-storey tower, located in the 17-acre precinct of Upper Worli, Mumbai, will offer residents two custom-built 'Rolls Royce' sedans on a time-sharing basis, the statement said.
Follow Emirates 24|7 on Google News.