Robots could take away UAE jobs; yours at risk?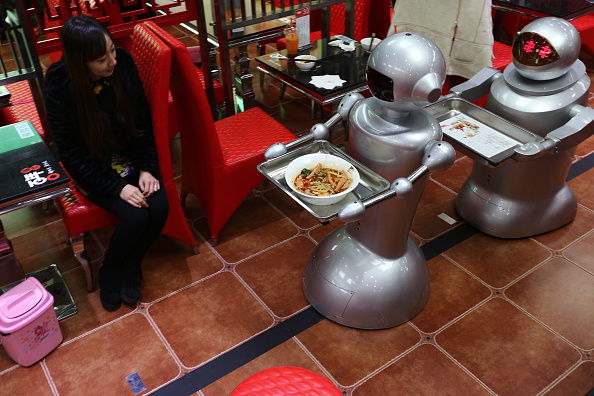 A bigger fleet of robots seems to be taking up many roles, minimising the need for human intervention and to some extent completely doing away with it in jobs that were previously handled by mere mortals.

Not only fewer robots are needed as compared to human beings, but advocates say they are far more efficient and economical when it comes to doing the job, making them a sensible choice over men and women.

Robots are all set to make entry into certain industries in the UAE. For example, several hospitals in the country are looking to deploy machines to take up several jobs.

"We are in contact with several hospitals as well as local partners that can work with us in bringing robots into healthcare facilities in the UAE," Dr. Claus Risager, Partner & Director at Blue Ocean Robotics, told Emirates 24|7 in an earlier interview.

Robots are also taking up roles in schools. For example, Merryland International School in Mussafah, Abu Dhabi, has launched what it claims is the first robotic lab in a UAE school.

Humanoid AISOY Raspberry Pi robot will teach basic addition and subtraction while Nao, the 57-cm tall Evolution Humanoid robot from France, will help special needs children.

And then we have the robot skyscraper cleaners, which could be much in demand, considering Dubai's skyline.

German engineering company Samad International has designed the Robo Clean specifically for the UAE. This machine cleans 210 square metres of glass an hour and there is no limit to how high it can climb.

The big demand, nevertheless, is coming from industrial and manufacturing sector, where more jobs could be taken up by robots and at a bigger scale.

New global research by the Boston Consulting Group (BCG) predicts that, by 2025, adoption of advanced robots will boost productivity by up to 30 per cent in many industries and lower total labour costs by 18 per cent or more.

This could lead to changes of up to 5 percentage points in the cost competitiveness of major export economies relative to the US, says the study.

"As labour costs rise around the world, it is becoming increasingly critical that manufacturers rapidly take steps to improve their output per worker to stay competitive," said Harold L. Sirkin, a BCG senior partner and co-author of the firm's series on the shifting economics of global manufacturing, introduced in 2011.

"Companies are finding that advances in robotics and other manufacturing technologies offer some of the best opportunities to sharply improve productivity."

Although industrial robots have been used in factories for decades, robots currently perform only around 10 per cent of manufacturing tasks that can be done by machines, on average. By 2025, BCG estimates, the portion of 'automatable tasks' performed by robots will near 25 per cent for all manufacturing industries worldwide.

This will be easier to achieve as the total cost of owning and operating advanced robots is on the decline. And, this combination of price and performance improvements will greatly accelerate the time it takes for robots to become more cost effective than labour in many industries.

As robots become more affordable and easier to programme, smaller manufacturers will also use them on a wider scale, says the BCG study.
Follow Emirates 24|7 on Google News.