RTA 'parking app' will show you vacant spaces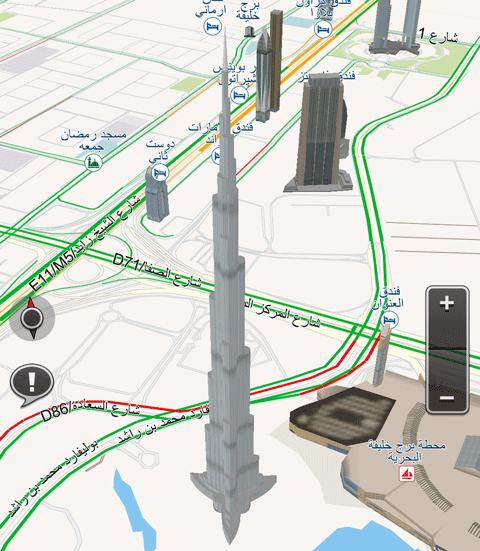 Mattar Al Tayer, Chairman and Executive Director of Roads and Transport Authority (RTA), announced the launch of a new bundle of smart services rendered by the RTA to customers via smartphones enabling them to complete their transactions and obtain a variety of services via smartphones, thus obviating the need to visit customer service centres.
The new offering, which will be launched at Gitex 2014, include a host of services highlighted by "Smart Roads app" which enables commuters to pre-plan their trips, and provides real-time information about traffic.
Another application is the "Smart Parking app", which enables users to identify vacant parking spaces on Sheikh Zayed Road in the direction from Dubai to Abu Dhabi, as a tentative phase followed by other phases later on.
"Launching the new package of smart applications and services follows the initiative of His Highness Sheikh Mohammed bin Rashid Al Maktoum, Vice-President and Prime Minister of the UAE and Ruler of Dubai, to rank Dubai as the smartest city world-wide by providing services to the public 24/7 throughout the year via mobile phones," said Al Tayer.

Smart Roads app
"The Smart Roads app, he added, is one of the most important initiatives to be launched by the RTA at Gitex, as it offers users real-time, accurate and direct information about roads condition in Dubai and accordingly enables commuters to pre-plan their trips, use alternative roads and avoid congested routes.
"The application is also fitted with prompt reporting feature that provides real-time update about traffic conditions, jams, accidents, among other surprises so that users can avoid them."

Smart Parking app
"The RTA will also launch the new update of the Smart Parking app, which enables users to locate vacant parking spaces on Sheikh Zayed Road in the direction from Dubai to Abu Dhabi in a probation period, thus saving time and effort spent in searching for free parking slots, and eliminating the resultant congestion.
"The app allows commuters to screen a specific area to identify the number of free parking slots, and calculates the distance between the vehicle and the nearest vacant parking space.
"It also enables users to locate vacant parking spaces in RTA's multi-level parking facilities together with Dubai Mall parking lots.

The application is updated via sensors fitted in the parking spaces that automatically feed the system with information about the condition of parking spaces in a given area," explained Al Tayer.
RTA Chairman of the Board and Executive Director further added: "The new services to be launched at Gitex include Nol Smart Posters which uses Near Field Communication (NFC) technology, and enables the public pay their mass transit fare via smart phones."

Dubai Brand
A new service also enables vehicle owners to replace their current number plates with number plates that display the new Dubai Brand.
The number plate replacement service, which is optional, will be available via a smart phone app and RTA's website. The new plates will be delivered by courier companies or can be collected by customers from specific RTA customer service centers.

Wojhati app
RTA will be offering a variety of smart and electronic services, including the new updated Wojhati app, which has been fitted with a virtual reality feature to nurture an interactive environment that simulates the true state of affairs and integrates it with Wojhati app, thus enabling users to automatically locate and access public bus stops by transferring the data about the distance between the user's location and the stop on the smartphone camera.
Wojhati app enables public transport users to plan their trips from a specific point to another using various public transport modes, know arrival times of various transport means, and calculate the associated fare as well.

Google Glass
The RTA will also showcase Google Glass; which provides a new window to roads information in Dubai as users will be able to obtain detailed information about their intended destinations along with the shortest routes to them, bus stops, metro stations, and the distance and time needed to reach various destinations.
The user can also activate the display of transport information on Google Maps in order to identify the nearest bus route in case the user wishes to book a hotel or restaurant.
This step has been contemplated in view of the rising use of wearable electronics; which warrants the RTA to keep pace with these developments in order to honour its commitments towards elevating the profile and status of the UAE in general and Dubai Emirate in particular.

Smart Taxi app
Among the apps to be showcased by the RTA is the "Smart Taxi app", which is one of the most sophisticated and innovative smart apps, being the first-of-its-kind that enables customers to book taxi cabs and directly track their movement in a real-time environment.

Smart Salik app
It will also exhibit "Smart Salik app" offering customers access to multiple services such as enabling them to make balance inquiry, displaying trips made under Salik Gates for a specific period relating to a specific vehicle, listing all Salik offences or unpaid tolls which will be converted into offences in case no sufficient top-up is made, inquiring about vehicles using Salik tag number or licensing plate number, displaying all vehicles entered in the customer's Salik account, setting a new electronic account enabling the customer to manage his or her Salik account in terms of adding a vehicle, recharging the account, displaying the record of trips and offences, besides recharging Salik account using the ePay, Salik top-up card number, or the e-voucher.

Service Bundle
"The RTA is making giant strides towards switching its electronic and conventional services to smart services. The RTA currently provides about 53 services via smart apps, and the plan is to undertake 22 initiatives or projects out of a total of 100 initiatives contributed by Dubai departments and authorities.
About 200 smart services via smart phones will be launched by the end of 2015 out of a total 1,000 smart services at the government departments level, such that the Smart Government initiatives will constitute a key part of this drive. Through these apps, we in the RTA, are seeking to make Dubai city the smartest city in terms of roads and transport across the world," Al Tayer stated.
"The expansion in implementing smart apps and services contribute to realising a host of objectives highlighted by the improvement as well as the enhancement of the role of mass transit systems, upgrading the efficiency of traffic systems, revolutionising the methods of processing transactions such that the services can be accessible in an electronic shopping environment, cementing the role of social networks in selecting public mobility means, and impacting the geographical distribution of populace with a view to having more density around key mass transit stations," said the RTA Chairman.

Follow Emirates 24|7 on Google News.