RTA supports Hatta Development with van to transfer kidney patients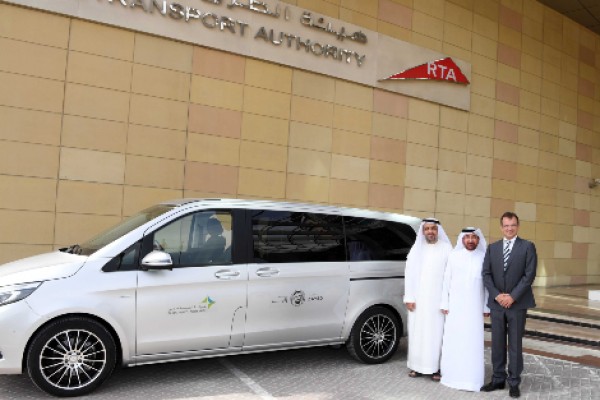 The Road and Transport Authority's Dubai Taxi Corporation, DTC, announced the allocation of a van for the Hatta Hospital, a Dubai Government hospital, to transfer kidney patients in need of dialysis to Dubai.
The initiative is taken as part of a strategic cooperation plan with Al Futtaim Automotive and Gargash Enterprise, and in the implementation of the Dubai Government directives to support the comprehensive development of the Hatta area. The initiative, which is rolled out in the context of the Year of Zayed and the Year of Giving initiatives, forms part of the 'RTA Foundation' initiative. It focusses on delivering services that add to the comfort and happiness of people of the area.
In the presence of Mohammed Obaid Al Mulla, Member of the Board of Directors and Chairman of the Higher Committee of the "RTA Foundation", Dr Yousef Al Ali, CEO of Dubai Taxi Corporation and First Vice Chairman of the Higher Committee of "RTA Foundation", handed over the van to the Dubai Health Authority. A special function was held to celebrate the event at the Road and Transport Authority, RTA, headquarters in the presence of several concerned parties.
The initiative is part of the RTA's social responsibility focussed on achieving the community happiness at various levels and identifying the needs of Dubai residents. Humanitarian aspects are a key component of the RTA's strategy, vision and goals. The Year of Zayed and Hatta Development Plan are part of its agenda, and the initiatives of the Dubai Government are a goal that all parties seek to realise in perfect style.
The RTA places much emphasis on the partnership with Al Futtaim Automotive and Gargash Enterprise and is keen on cementing relationships with key partners in the private sector. Such cooperation is part of a series of ambitious plans for supporting charitable and humanitarian aspects. It stems from the noble values of the UAE community which is focused on promoting the spirit of social responsibility and cooperation between community members and organisations.
Follow Emirates 24|7 on Google News.