RTA to provide complimentary directional signs for Emirati weddings from September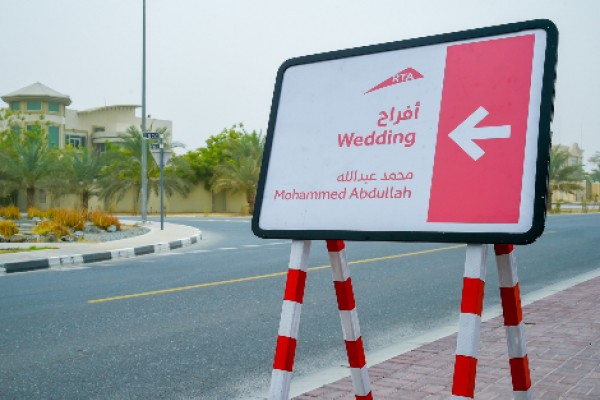 Mattar Al Tayer, Director-General and Chairman of the Board of Executive Directors of the Roads and Transport Authority, RTA, in Dubai, has announced that it will provide complimentary directional signs for wedding events of Emiratis starting from September this year.
Al Tayer also honoured proponents of the wedding and condolence events' directional signs' suggestion, which was widely welcomed by community members.
Citizens honoured included Jassim Ahli, Laila Ahmed Abdullah Issa, Abdullah Abdul Rahman Al Ali, Hassan Ahmed Baqer, Mohammed Abdul Karim Bu Khashm, Abdul Razak Ali Ibrahim and Majed Abdullah Abdul Rahman, as well as the RTA team, which developed the concept.
Al Tayer commended the RTA's team and clients who supported the suggestion, which will maintain the urban outlook of Dubai and clear the rampant carton signs placed on the roads for directions to the sites of condolence events. The authority has developed the idea of signs to guide invitees to social events held at homes or in tents.
"The RTA is keen on diversifying communication channels with individuals and staff contributing with their suggestions to the RTA, in a bid to engage them in the decision-making process. The aim is to enable them to make suggestions that may improve the business process, boost customers confidence and achieve excellence in service delivery, which will contribute to realising the RTA's vision, mission and objectives," added Al Tayer.
The RTA's directional signage service is accessible through the affiliated customer service centres, or the 24/7 call centre (8009090) to supply the required information/documents. The authority provides 10 signs per request to cover a wide geographical area leading to the wedding or condolence location.

Follow Emirates 24|7 on Google News.