Russian satellite crashes in north Saudi, says report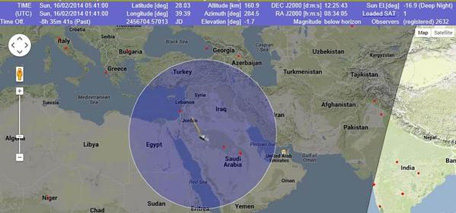 A Russian satellite crashed in north Saudi Arabia early on Sunday and many people could see the satellite's flare before it crashed in the Gulf Kingdom.

A Cosmos 1220 rocket launched the Russian satellite in 1980 and had been expected to fall on earth on Sunday, Sabq newspaper said, quoting Saudi astronomers.

"The rocket fell and crashed at around 4:40 am on Sunday…what distinguishes this incident is that it is an active satellite not debris of a satellite," said Mohammed Aoudeh, director of the Astronomy Centre in the western Saudi Red Sea port of Jeddah.

"Many people in northern Saudi Arabia could see the satellite flare as it headed towards earth…I think people in Jordan could also see it."

Sabq said Nasaand other agencies had earlier issued a warning about the imminent crash of the Russian satellite, adding that Nasa had expected the satellite to crash at around 01:49 am (Saudi time) on Sunday.
Follow Emirates 24|7 on Google News.