Security high as Pakistan launches first census in 19 years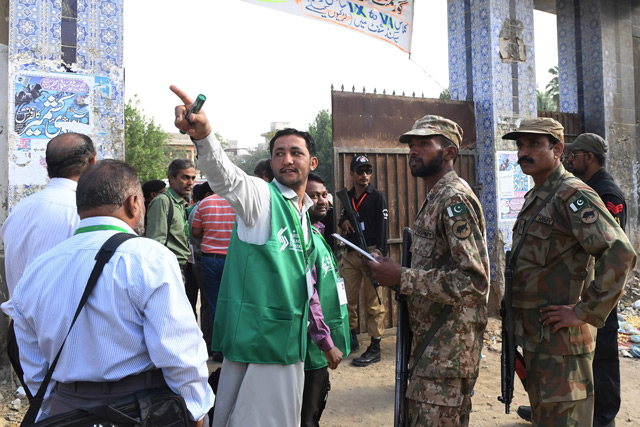 Pakistan on Wednesday launched its first census in nearly two decades, with security high as thousands of enumerators backed by the military began the enormous, politically-charged count.
The weeks-long process, a challenge in a country known for corruption and dysfunction, will deploy a team of more than 300,000 people and involve 55 million forms - as well as a second, separate form distributed by the military.
"It's a very hectic process, but we are ready for it," Nadeem Ehsan, a teacher clad in a yellow Pakistan Census 2017 jacket in the northwestern city of Peshawar, told AFP.
"We had some reservations about security initially but we were assured about it by the government," he added, describing the process as a "noble cause".
Fast-growing Pakistan is the sixth most populous country in the world, with an estimated 200 million people, but has not held a census since 1998 due to years of bickering between politicians.
The count will be the basis for revising political boundaries, parliamentary seat allocations and finances as the country gears up for a national election next year - a prospect that has raised fears over power bases and federal funding.
Powerful Punjab province, for example, could see its political grip weaken as a result of its population not rising at a similar rate to other provinces.
And ethnic Baloch fear they will become a minority in their own province, sparsely-populated Balochistan, due to an influx of Pashtuns - including refugees from Afghanistan whose nationality is difficult to determine due to falsified documents.
The count will also give a clearer picture about religious minority numbers in the Muslim-majority country as well as numbering the transsexual population for the first time.
The Pakistan Bureau of Statistics (PBS) will deploy some 119,000 people, including 84,000 enumerators: teachers and local officials who will go door-to-door to count homes and then individuals.
Pakistan's powerful army says it will dispatch up to 200,000 troops for the exercise, including 44,000 participating directly in the census-taking and making a parallel count using a second form.
Asif Bajwa, the PBS's chief statistician, said the army would act as 'observers' to ensure enumerators did not inflate local counting.
But that has created some disquiet for the UN, who are concerned about the army's role as parallel data collectors.
The first census phase will take place from March 15 to April 15, the second from April 25 to May 25, and final results are expected by the end of July.
Follow Emirates 24|7 on Google News.