Sheena Bora Murder: Mukerjea charged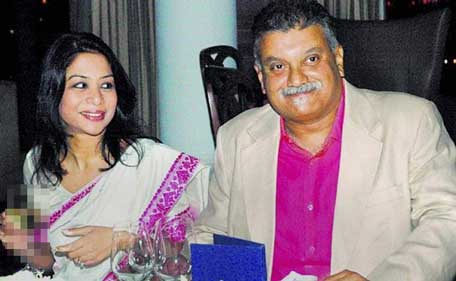 One of India's leading media magnates has been formally charged with murder over the death of his stepdaughter, an investigating officer said Wednesday, the latest development in a case gripping the country.
Peter Mukerjea, an ex-chief executive of media behemoth Star India, has also been charged with abduction, destruction of evidence and giving false information, an official with India's Central Bureau of Investigation (CBI) said.
"He has been charged with the same offences as the others," the official told AFP on condition of anonymity, referring to an earlier chargesheet filed against Mukerjea's wife and two others.
Wife Indrani Mukerjea is accused along with her driver and ex-husband of strangling Sheena Bora to death before dumping her body in a forest and setting it alight.
Bora, 22, was Indrani's daughter from a previous relationship.
She was murdered in April 2012 and her burnt body was discovered the following month in woods in the western state of Maharashtra, of which Mumbai is the capital.
Indrani was arrested in August on suspicion of murdering the young woman, who was having an affair with Peter Mukerjea's son from an earlier marriage.
Various motives have been put forward for the alleged crime, including a financial dispute over property dealings and a dislike of Bora's relationship with Peter Mukerjea's son, Rahul.
The CBI also arrested Peter Mukerjea in November and on Tuesday formally added him to the same chargesheet after several months of questioning, according to a statement on its website.
Peter Mukerjea was chief executive of Fox-owned Star India from 1997 to 2007 before leaving to start his own television venture and is seen as one of India's most successful media magnates.
In November, the CBI formally charged Indrani, who is the prime accused, her driver Shyam Rai and former partner Sanjeev Khanna with murder, abduction and destruction of evidence among other offences.
Peter Mukerjea was believed to be out of the country on the day of the murder but the CBI alleges he was actively involved in the conspiracy.
"Even when he was abroad he was in constant touch with Indrani," the unnamed official told AFP.
India's newspapers and TV news channels have been abuzz with details of the scandal since it first broke, with many carrying complex family trees illustrating who's who in the case.
Mumbai Police initially registered the case before the CBI, India's leading investigating agency, took it over in September.
Follow Emirates 24|7 on Google News.