Shots, blasts as protest rivals clash on Thai election eve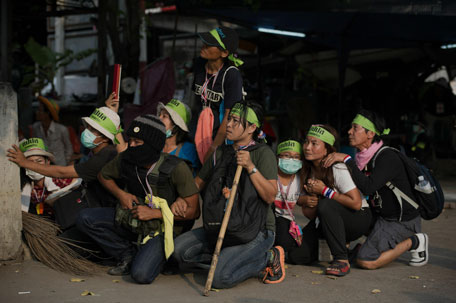 Explosions and heavy gunfire rattled Bangkok on Saturday as pro- and anti-government protesters clashed on the eve of Thai elections seen as unlikely to end a cycle of violence in the kingdom after months of opposition rallies.

Bystanders, security personnel and journalists raced to take cover in a shopping mall after a masked gunman began spraying bullets from an assault rifle during confrontations between government supporters and opposition demonstrators, according to an AFP reporter.

At least six people were injured as a busy intersection in a northern suburb of the capital was turned into a battle zone with volleys of sustained gunfire ricocheting off buildings for over an hour in a daylight attack that sent shockwaves across the city.

Tensions are high in the capital ahead of snap elections on Sunday, which opposition demonstrators have vowed to block as they seek to prevent the likely re-election of Prime Minister Yingluck Shinawatra.

Bangkok has been rocked by weeks of sometimes bloody political violence during rallies by a loose coalition opposed to Yingluck and the enduring influence of her elder brother Thaksin Shinawatra -- a former premier ousted by the military in 2006.

Saturday's clashes happened after demonstrators blocking ballot boxes from being delivered from the Lak Si district office -- one of 50 in the capital -- were confronted by a group of some 200 government supporters, some armed with sticks and metal bars.

At least two explosions were heard in the area before the firing began.

"The clash point is the intersection, gun shots seemed to be fired from both sides," said Sunai Phasuk, a senior researcher with New York-based Human Rights Watch, who was at the scene.

He said a reporter was among the injured.

The Wall Street Journal reported that acclaimed US photographer James Nachtwey had been hurt in the pre-election clashes.

It quoted Nachtwey as saying a bullet hit him in the leg, while a photo on Twitter showed what appeared to be the photographer standing up as one of his legs was bandaged.

"I'm walking now. I'm okay," he told the Journal. "I'll be able to work tomorrow."

The firing started after talks between the rival groups broke down in the area, which is roughly split between Yingluck's supporters and those backing the opposition protests, Sunai added.

"This is what we forecast for tomorrow. Tensions could flare up into violence very easily," he told AFP, adding that protesters had been evacuated and tensions appeared to have calmed after nightfall.

Three months of violenceAt least 10 people have been killed and hundreds injured in clashes, grenade attacks and drive-by shootings since the opposition rallies began three months ago.

The unrest is the latest round of political instability to hit Thailand since royalist generals ousted Thaksin seven years ago, unleashing a cycle of sporadically violent street protests.

In 2010 clashes and a military crackdown on pro-Thaksin Red Shirts demonstrating against the previous government left more than 90 people dead and nearly 1,900 injured.

The backdrop to the protests is a years-long political struggle pitting the kingdom's royalist establishment -- backed by the courts and the military -- against Thaksin, a billionaire tycoon-turned-politician.

The current protesters are mainly made up of Thaksin's foes in the Bangkok middle class and southerners backed by factions in the elite.

They are demanding that Yingluck's elected government step down to make way for an unelected "people's council" that would oversee loosely defined reforms to tackle corruption and alleged vote-buying.

"The government is corrupt. If we let the vote go on then they will come back, so we should not hold the election," said opposition protester Sirames, who gave only one name, at the Lak Si office before the violence broke out.

Yingluck's opponents say she is a puppet for Thaksin, who lives in Dubai to avoid a prison term for graft.

The protests were initially triggered by a failed amnesty bill that could have allowed Thaksin to return without going to jail.

Around 130,000 police are set to protect 93,000 polling stations across the country on Sunday.

Yingluck is likely to win the poll, helped by strong support in Thaksin's north and northeastern heartlands.

But uncertainty hangs over the results, with unrest threatening polling and several constituencies without a candidate.

Authorities on Saturday said protesters were also blocking ballot boxes being delivered to polling stations across southern Thailand -- the stronghold of the opposition Democrat Party.

The elite-backed Democrats -- who have not won an elected majority in around two decades -- are boycotting the election.

Advance voting was blocked in several parts of the capital last Sunday and some 440,000 people were prevented from casting ballots. They are due to vote on February 23.
Follow Emirates 24|7 on Google News.