Showtime to air documentary on WikiLeaks founder Assange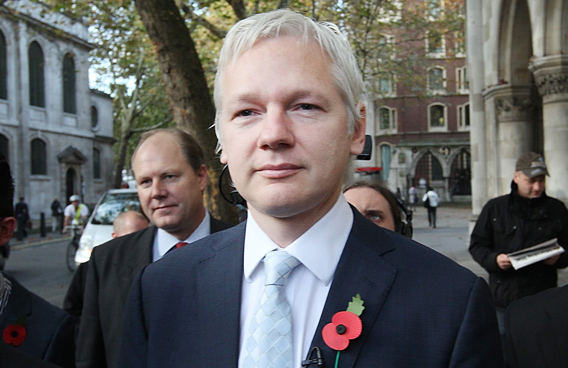 US cable network Showtime said on Sunday it is to release "Risk," a documentary from Oscar-winning filmmaker Laura Poitras about controversial WikiLeaks founder Julian Assange.
The network announced in a statement it would partner with distributor Neon on a theatrical release before premiering the movie on television in a few months.
Filmed over six years and taking in the 2016 US presidential election, "Risk" claims to take viewers closer than any previous film crew into Assange's inner circle.
"With unprecedented access, Poitras gives us the WikiLeaks story from the inside, allowing viewers to understand our current era of massive leaks, headline-grabbing news, and the revolutionary impact of the internet on global politics," Showtime said in a statement.
"'Risk' is a portrait of power, principles, betrayal, and sacrifice when the stakes could not be any higher. It is a first-person geopolitical thriller told from the perspective of a filmmaker immersed in the worlds of state surveillance and the cypherpunk movement."
Assange, 45, has been at the Ecuadoran embassy in London since 2012, having taken refuge to avoid being sent to Sweden, where he faces a rape allegation.
He fears Sweden would extradite him to the United States over his website's leaking of diplomatic cables and other classified documents.
The Australian was questioned at the embassy on November 14 and 15 on the rape allegation which dates back to August 2010.
Poitras's profile of Assange, who denies any wrongdoing, is a follow-up to her Academy Award-winning "Citizenfour" (2014), about fugitive leaker Edward Snowden and the NSA spying scandal.
"It is an exciting time to be working with Showtime and Neon," the 53-year-old said.
"Both organizations are thinking outside the box about how to bring complex stories to a wide audience. I am thrilled to team up with them on 'RisK.'"
An unfinished version of "Risk" screened to critical acclaim at the 2016 Cannes Film Festival.
Follow Emirates 24|7 on Google News.