Six Pakistan police killed protecting Spanish cyclist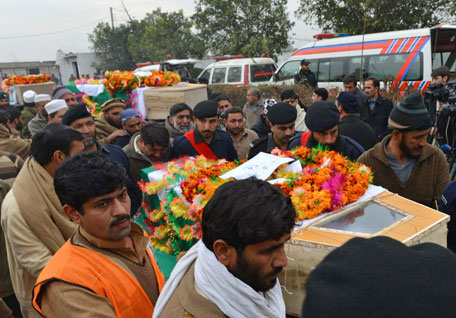 Six Pakistani police officers were killed Wednesday while escorting a Spanish tourist as he cycled through the highly volatile southwestern province of Baluchistan, officials said.

The cyclist and his escort of local tribal police were ambushed in Mastung district, about 55 kilometres (35 miles) west of the provincial capital Quetta.

Baluchistan, which borders Iran and Afghanistan, is one of Pakistan's most unstable provinces, rife with separatist and militants and plagued by sectarian bloodshed.

Kidnappings for ransom are common in parts of the province and Western hostages could be expected to fetch a high price.

"The local tribal police officials were escorting the Spanish cyclist after he entered Pakistan from Iran when gunmen attacked him," a senior local administration official, Shafqat Sehwani, told AFP.

Six policemen were killed and five wounded in an exchange of fire, he said, adding that the cyclist suffered only minor injuries.

A Spanish embassy spokesman said the cyclist, whom he would not name, is safe and has been released from hospital.

Provincial home secretary Asad Gilani said he had undergone a full medical checkup and was now "in the custody of the provincial administration".

"We are making arrangements to send him to Islamabad by evening," Gilani added.

A senior local administration official, Akbar Baluch, confirmed the incident in which one of the attackers was also killed.

In March last year two Czech women were abducted as they travelled through Baluchistan from Iran, and they remain missing. A video of them asking their government to work for their release was aired in October.

A Swiss couple were held captive by the Pakistani Taliban for more than eight months after being abducted in 2011 in Baluchistan. They were found safely in March 2012 in circumstances that remain unclear.

Wednesday's incident took place near the scene of a bomb attack on a bus that killed 24 Shiite pilgrims who were returning from Iran on Tuesday.

Separately, police on Tuesday evening found the body of a man close to the Iran border two days after he was abducted, the top local administration's official doctor Akbar Harifal told AFP.

Baluchistan has been badly hit by a decade-long Baluch separatist insurgency and sectarian violence, mainly targeting from the Hazara ethnic community.

Two huge bomb attacks targeting Shiite Hazaras in Quetta in January and February last year killed nearly 200 people.
Follow Emirates 24|7 on Google News.