Sri Lanka landslides, floods kill at least 25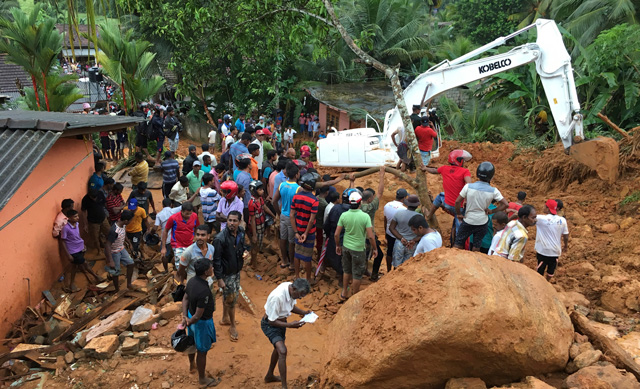 Floods and mudslides triggered by heavy monsoon rains in western and southern Sri Lanka left at least 25 dead and 42 missing, the government said Friday.
The Disaster Management Center said that more than 7,800 persons are affected by the calamity.
Home Affairs Minister Vajira Abeywardana told reporters that the adverse weather conditions could escalate. The government advised people living closer to rivers and areas prone to landslides to evacuate, he said.
Government workers have had their leaves canceled, he said, adding that he had asked rescue and aid organizations to stay alert for the next 72 hours.
Heavy rains have lashed several parts of the country since Thursday, inundating roads and houses. Authorities closed all schools in the Sabaragamuwa province, about 90 kilometers (55 miles) east of Colombo due to the rains and floods. Heavy flooding also was reported in the country's south.
The country's navy deployed more than 100 sailors and 20 boats to rescue and help the affected people. The air force also sent helicopters and planes to rescue the marooned and provide emergency relief.
Mudslides are common during the monsoon season in the Indian Ocean tropical island. Much of Sri Lanka has been heavily deforested for export crops such as tea and rubber, leaving the countryside exposed.
In May last year, more than 100 people died when they were buried in a massive landslide in central Sri Lanka.
Follow Emirates 24|7 on Google News.